Buying a car in 2023 is hard, but that seems to be the way it's going for just about everything these days — even toy cars. And supply-chain disruptions alone don't explain it. Just like concert tickets, sneakers, game consoles and luxury watches, the Hot Wheels market has been overrun by resellers who snap up the most desirable new die-cast releases from Mattel and flip them for a profit. As with all those other products, the problem has only grown since the start of the COVID-19 pandemic. It shows no sign of stopping.
In case you missed it:
About a year ago, I wrote about how Target and Walmart seemed perpetually low on stocks of Hot Wheels die-casts, along with possible explanations for that phenomenon. At the time, Mattel's pre-pandemic staffing cuts, the pandemic itself, and physical bottlenecks like the Ever Given debacle and last year's border-crossing blockades were believed to play a role. But there's another issue affecting the Hot Wheels market, the same one you know all too well if you ever attempted to get your hands on a PS5 over the past 24 months — scalpers.
Hot Wheels "mainlines" — the cheapest, blue-blister-pack cars you see in supermarkets and drug stores — cost $1.29 a pop. It's frankly an astonishing price, barely 40 cents more than what Mattel charged in 1982, even though inflation means they should really cost around $2.88. Positioned above the mainlines are premium, "adult-targeted" collections like Car Culture and Team Transport, which will set you back about $7 or $15, respectively, if you're buying them in a store.
On the whole, then, Hot Wheels are pretty cheap. However, new casts drop in waves, cycling in and out of stores very quickly. Retailers get shipments every few weeks, and over the course of the year the content of those shipments changes. What you find on the rack in January might not be stocked anymore come March.
That combination of low prices and limited-time availability makes toy cars a prime target for scalpers. Hot Wheels are easy enough to buy en masse when a new pallet comes in, then flip on eBay for an eight-fold profit, which buyers are content to pay because at least it saves them the legwork of searching for a particular car at retail. When you're talking about a toy that costs $1.29, $8 isn't unreasonable to part with. I'll admit to having spent about as much for a few hard-to-find Hot Wheels at a pop-up shop at Lime Rock Park during the IMSA race last year.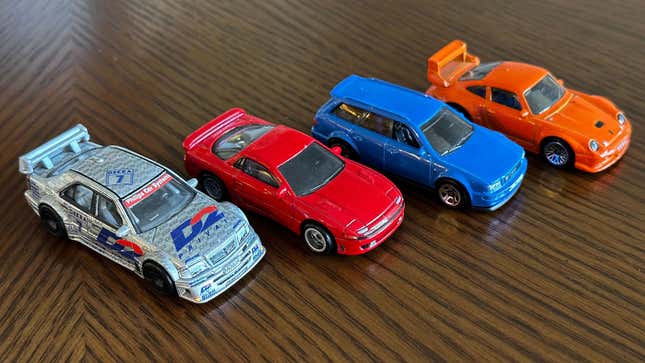 The higher quality Car Culture products seem to range more widely in price on eBay. Some, like this Celica GT-Four, are just a dollar or two more than what you'd pay at a brick-and-mortar establishment, while others, like this FD RX-7, are set at double the list price. Both were released last year, but I never came across either in my travels. In fact, the higher-end pegs are so regularly barren at my local Target that I audibly gasped when I stumbled on a Mercedes-AMG GT3 Team Transport last weekend.
That got me thinking: is collecting really that much worse today because of resellers? As much as I enjoy my little shelf of miniature cars, I'm far from the most avid enthusiast. Some collectors scour cases full of new cars looking for one of several "Treasure Hunts" — ultra-rare mainline cars with special details, if you know where to look. As for myself, I'm content to casually seek out my favorite models, ideally in race-replica liveries. I asked a denizen of the Hot Wheels subreddit to kindly weigh in with some authority.
"When I first started seven-ish years ago, I feel like it was really easy to find what you wanted," a Reddit user named Frank, who started collecting in 2016, told me. "Even the community back then was so much more inviting. Way less animosity, especially when you saw people getting lucky finding multiple chases" — collector lingo for sought-after cars — "in one day. People seemed way less jealous."
For Frank, the pandemic was "the huge turning point." It led to a lack of supply, where stores that used to receive weekly stock instead began unloading shipments every three to four weeks. And those supply issues were exacerbated by an influx of new enthusiasts and resellers, which put pressure on everyone involved to buy anything and everything they could get their hands on.
"The hobby grew exponentially since the pandemic, and not only are there a lot of new faces, but these faces are way more invested," Frank told me via Reddit direct message. "Before the pandemic, I could walk into Walmart at 9 [p.m.], raid a pallet and get everything that I could ever want. Nowadays, no way. I walk in and there's now three people that have been waiting since 7 for the pallet to come out. I don't know about you, but I have better things to do than wait for three hours every single night at a damn Walmart."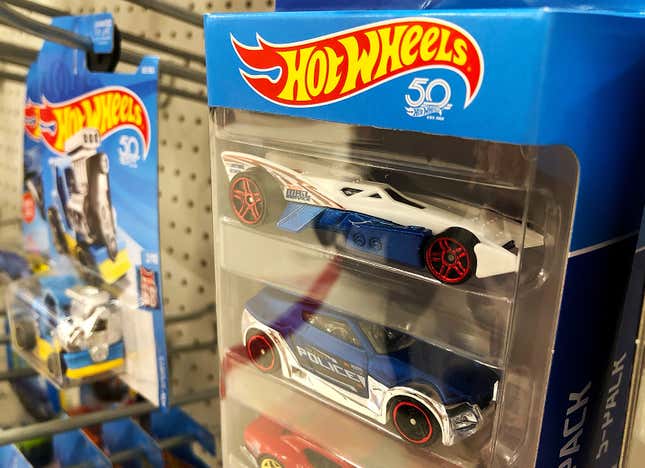 Not only does each store get its shipment at a different time, but retailers' restocking schedules vary, too. New product could hit the floor late on weeknights or early on weekends. Some collectors will call up stores or ask employees for intel; others might work out their own routes while the less zealous take their chances at random times of day.
Unsurprisingly, the competitiveness of the scene in recent years has driven away many collectors Frank knows, and dampened the communal nature of the hobby. "It would be really common for me to make a quick stop into Target or something, only to see another collector and just talk about what we found, or any customs we're working on, for like an hour," Frank told me. "We'd also let each other know what we're looking for so that we could keep an eye out and grab it…Nowadays, it's totally different. Newer collectors aren't so much for the community, but more for grabbing everything that they can for themselves."
Some collectors are open about buying up multiples of new cars and selling the extras for a small profit. One Redditor said they keep five to 10 examples of a particular cast for themselves, and offload the rest for $1.50 to $3 at local meets. In their words, it's "just how I see a way for me to make this expensive hobby both affordable and slightly profitable at the same time, I'm not saying I'm making huge amounts of money on them really," the Redditor wrote. Reselling was just their attempt at "trying to break even at the end of the day to keep up with the addiction."
Getting a worthwhile return is tougher when you're selling via eBay, once you factor the cost of shipping and the platform's cut — though some still see potential in it as a side hustle. Like this YouTuber, who makes it sound like cashing in on the "thriving Hot Wheels subculture" (emphasis not mine) is a foolproof way to rake in an extra $300 a month.
Side hustles and scalping are nothing new, but when resellers take a liking to one of the cheapest kids' toys money can buy, that's proven itself strangely immune to inflation for more than half a century, it's easy to be disillusioned. Jalopnik reached out to Mattel for comment several times about how the company is navigating supply chain holdups and reselling trends, but the company did not reply at the time of publishing.