American toy maker, Mattel, introduced us to the fascinating world of Hot Wheels in 1968, bringing to us a range of model cars. Since Hot Wheels came on the scene, many carmakers have had scale models of their cars made under license. As they are scale models, they get made using original designs from carmakers to ensure as much accuracy as possible. Although Hot Wheels were originally intended to be for children and young adults, they have become popular with adult collectors, for whom limited edition models are available.
Updated February 2023: Hot Wheels cars are a constantly evolving and the popularity of certain models fluctuates with the various trends. As such, this list changes to keep up to date with the most popular of toy cars. Hopefully this awesome collectible will continue to be popular among fans – even after the automotive world has gone electric.
Most people see Hot Wheels cars as toys found for a buck at any local store. However, now and then, a toy meant for kids ends up becoming a highly collectible item. It's usually because of how rare they are, as Hot Wheels has had a few models produced in minimal numbers, making them hard to find. A few were also one-of-a-kind collector items that shine nicely. Original packaging really helps increase the value of these collectibles.
There have been scores of such Hot Wheels that are now worth thousands of dollars. And others are easily hitting five figures among serious collectors. A few even crack six numbers at major auctions and collector's items. These are the top 10 Hot Wheels scale model cars that cost more than some actual cars.
RELATED: Check Out This 1963 Ford Anglia That Is Now A Hot Wheels Diecast Model
10
1974 Blue Rodger Dodger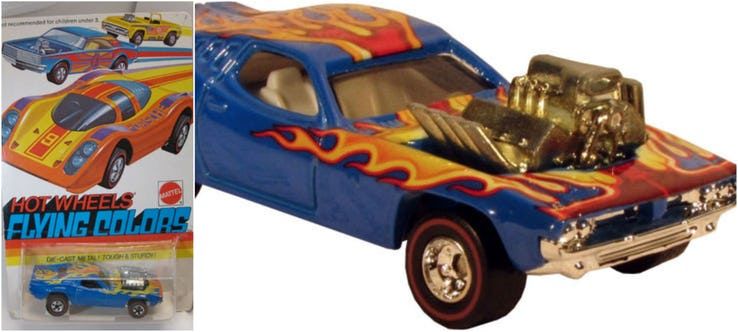 This Hot Wheels 1974 Blue Rodger Dodger, based on a 1973 Dodger Charger SE, is usually found in the Enamel Plum color with a black interior and there are some with a white interior, but there was only a small number produced with that color combination.
Particularly rare however is the 1974 Blue Rodger Dodger model car in blue paintwork, and what makes it so rare is the fact only seven were ever made. Interestingly, all seven models went to one English collector. If you are lucky enough to find one of these special muscle cars, it could set you back around $8,000. Not bad for a toy.
9
1968 Python With "Cheetah" Base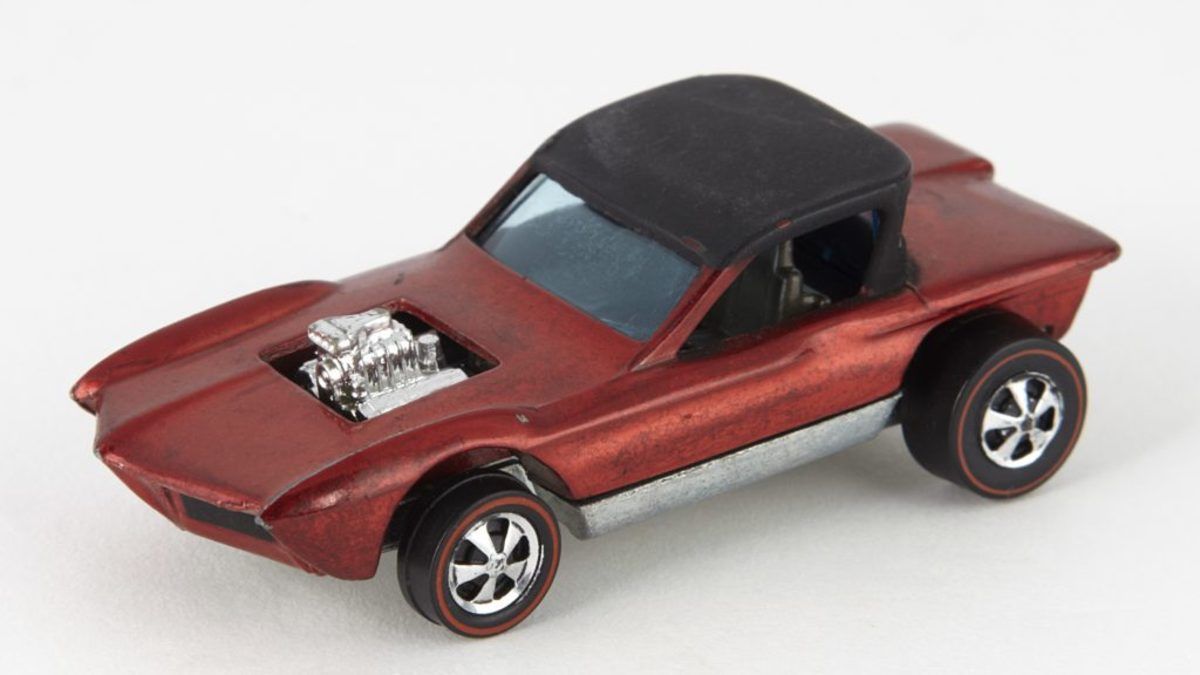 This model got made in the US and Hong Kong, based on a 1963 customized by Bill Cushenberry. A 1960 Pontiac and a 1961 Corvair got used to style the 1968 Python. As well as the orange paintwork to make this model rare, take a look at the underside of the car. If it has just the usual Mattel/Hot Wheels logos, don't get excited, as it's not that expensive. If the word "Cheetah" is on it, it's one of only nine made and worth a major penny. This is because these models got produced before discovering "Cheetah" was actually a Chevrolet Corvette racing car that was already registered to a GM executive.
And so, the model name got switched to Python. A few variants include a rainbow-colored international version, but the most common color for this model car is the red Hong Kong. If you find one in the very rare orange, then you could discover that it is worth an estimated $10,000.
8
1969 Ed Shaver Blue AMX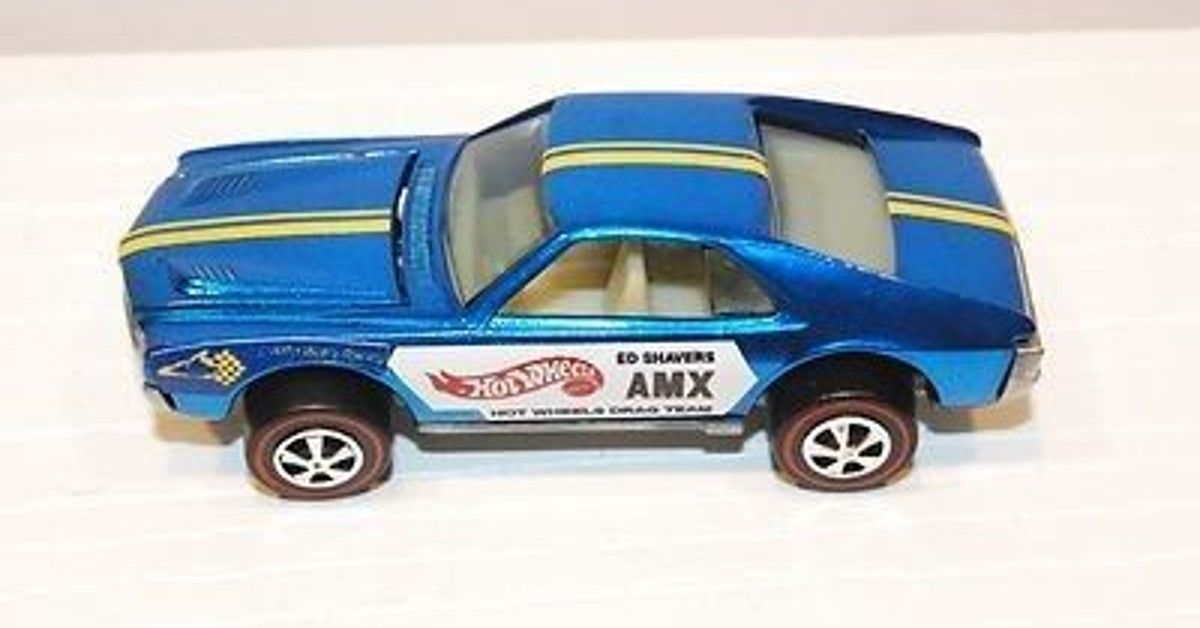 New to the list, is the Hot Wheels 1969 Ed Shaver Blue AMX based on the two-seater muscle car, which got manufactured by AMC. This particular model was actually designed by Ira Gilford, who worked at the American toy company Mattel and designed Hot Wheels model cars.
The 1969 Ed Shaver Blue AMX got produced in the US with a stunning white interior. In commemoration of Mattel's partnership with Ed Shaver, a custom AMX model got released, and it is most recognizable by its stickers. One of these editions could cost you around $10,000.
7
1971 Purple Olds 442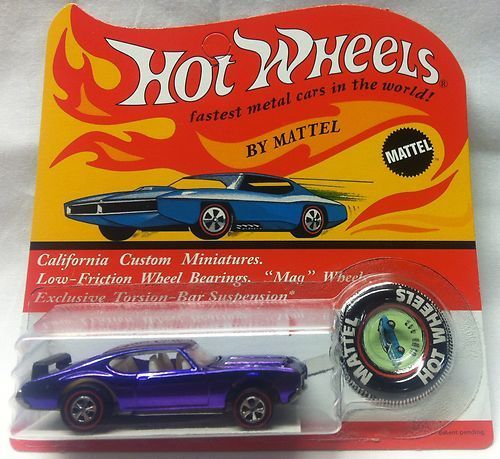 One of the rarest of the first Hot Wheels line, this model was only made for the Hong Kong factories and markets, without distribution to the United States. It is a "Redline" car, which makes it super rare among collectors because it got produced between 1968 and 1977.
During this manufacturing period, the wheels on these model cars had a red stripe, hence the "Redline" name. Also adding to its rarity is the purple color along with the blue-and-white Stars and Stripes motif. Put that together with the low production numbers, and the 442 can fetch over $12,000 for the lucky owner.
6
1969 Brown Custom Charger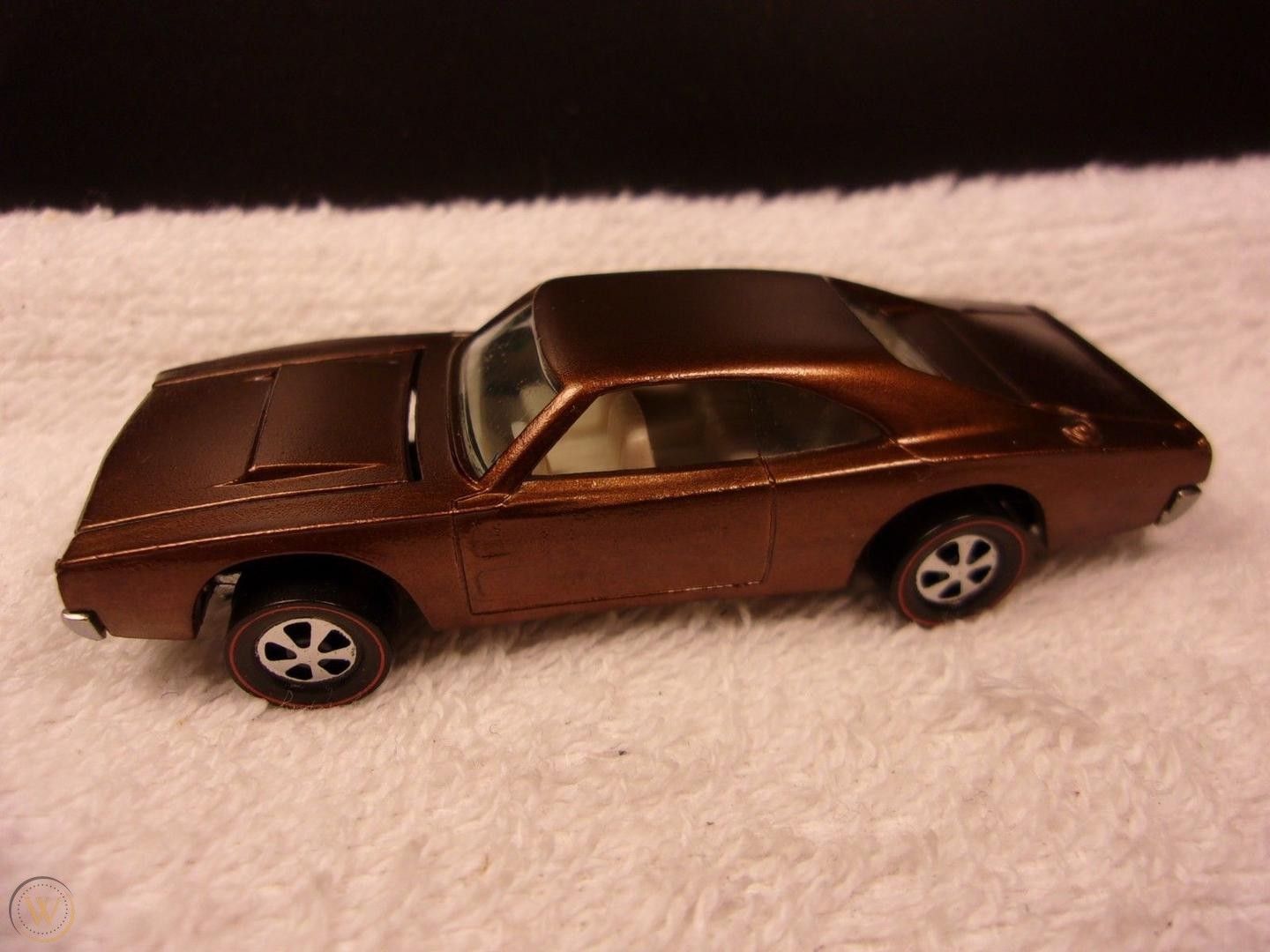 The 1969 Brown Custom Charger is another fantastic model car from Hot Wheels designer, Ira Gilford, based on an actual 1969 Dodge Charger. It's believed it was a prototype not meant for huge numbers, yet this is the one time a normally drab color like brown can be desirable and why its value is around $13,000.
Hot Wheels always excels in multiple colors for some cars, but it's notable when a model is much rarer in a color. Brown isn't the type of color you'd usually put on a powerful muscle car, which makes this custom brown 1969 Charger a rare and unique piece.
RELATED: This New Hot Wheels DeLorean DMC-12 & Alpha5 Collector Set Could Be Worth A Lot Very Soon
5
1970 Mad Maverick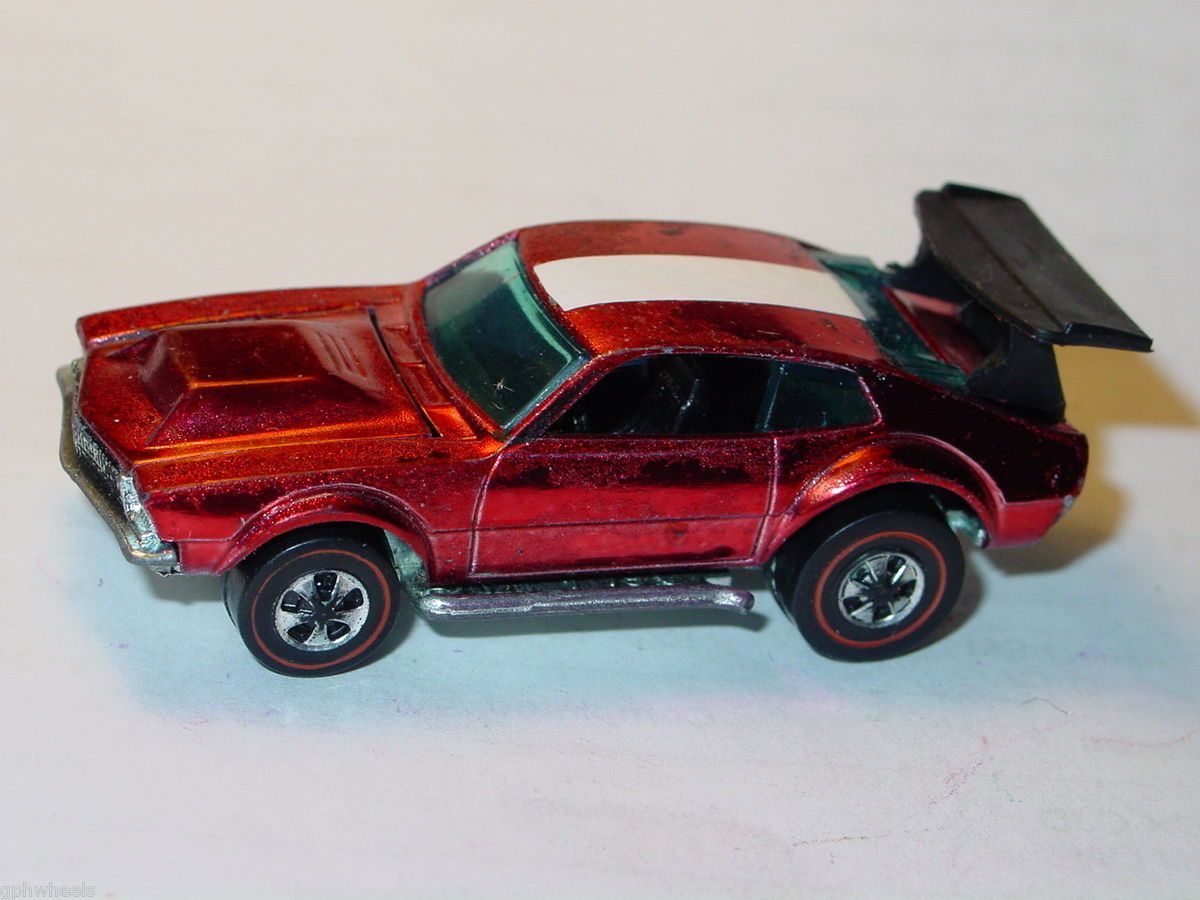 The Mad Maverick is actually based on a 1969 Ford Maverick. Revealed in 1970, the production of this gorgeous sports car ended in 1977. Particularly rare are the 'Mad Maverick' variants, which have that name cast underneath the model car, however, because of trademark permissions, the name got changed to the Mighty Maverick before it got released to the public.
Only five of these models are actually known to exist: two blue, one red, one purple, and another unassembled and unpainted. That rarity is a reason why a pristine version can fetch a high price as long as the collector can tell it is, in fact, the real deal. But collectors truly do go "mad" over this rare but wonderful toy and can pay up to $13,000 for this model.
4
1968 Over Chrome Camaro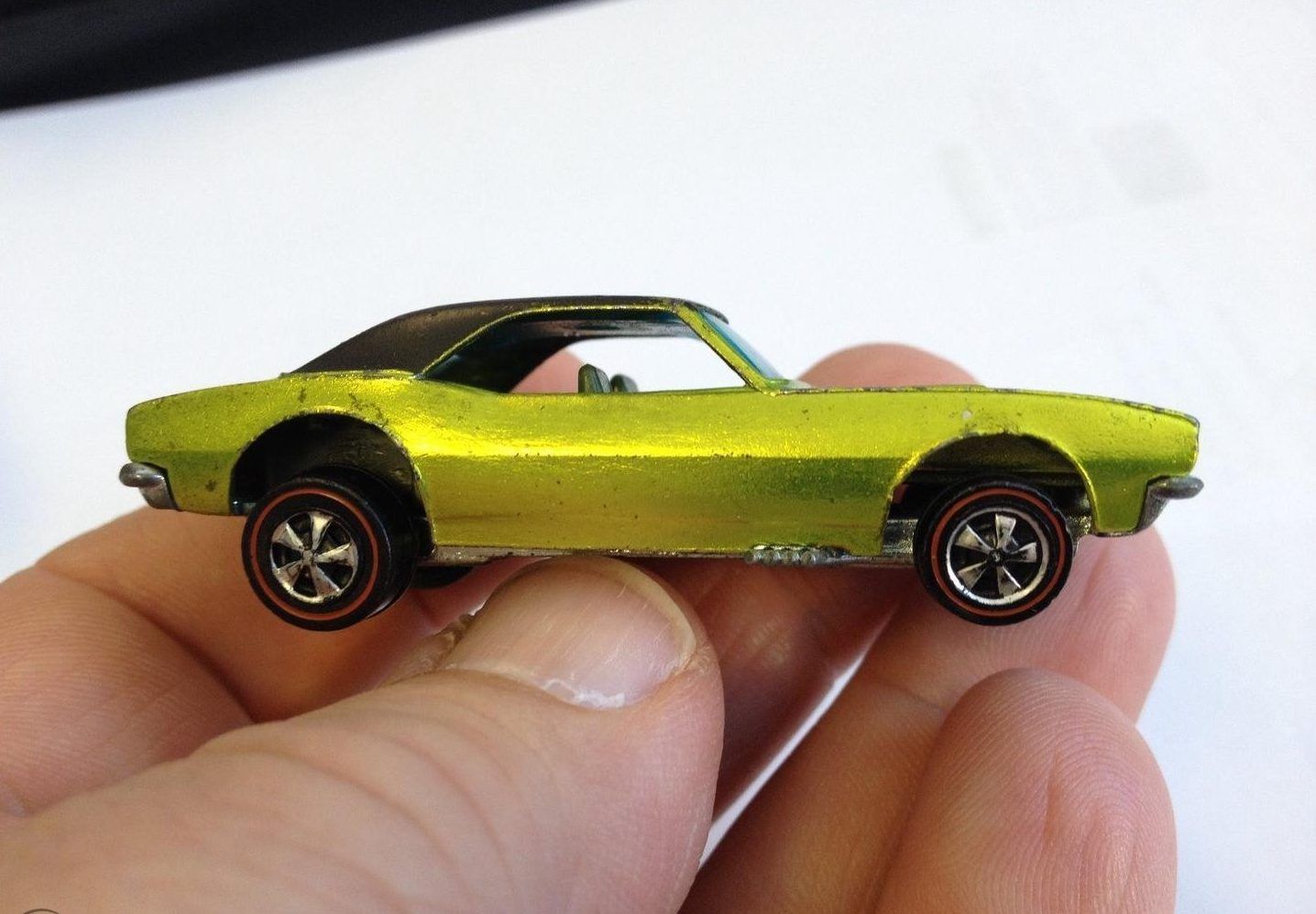 It's another gem from the 1968 Hot Wheels collection. The Over Chrome Antifreeze version got produced to support the toy's advertising campaigns. With only two produced, these model cars are particularly collectible and one of the rarest toys in the world – let alone Hot Wheels cars.
They were also meant to shine since the yellow-green top coat sat on top of the chrome underneath, setting them apart from other toy companies. The Camaro is among the rarer models, and a good copy can fetch about $25,000 for a lucky owner.
3
1968 Over Chrome Mustang
It makes sense the toy version of an iconic muscle car becomes a hit in its own right. While Hot Wheels has made a lot of Mustangs over the years, this particular Mustang model car is a limited one of two, for ad purposes only.
The detail is great, like a pop-up hood showing a perfectly recreated engine and special tints on the windows. Apparently, one of these rare models was actually acquired from a private seller and collector Ralph Antone owns a rarer "watermelon" color. A pristine model still in its original packaging can easily go for $40,000, a fitting tribute to a fine muscle car.
2
2008 40th Anniversary Diamond Encrusted Custom Otto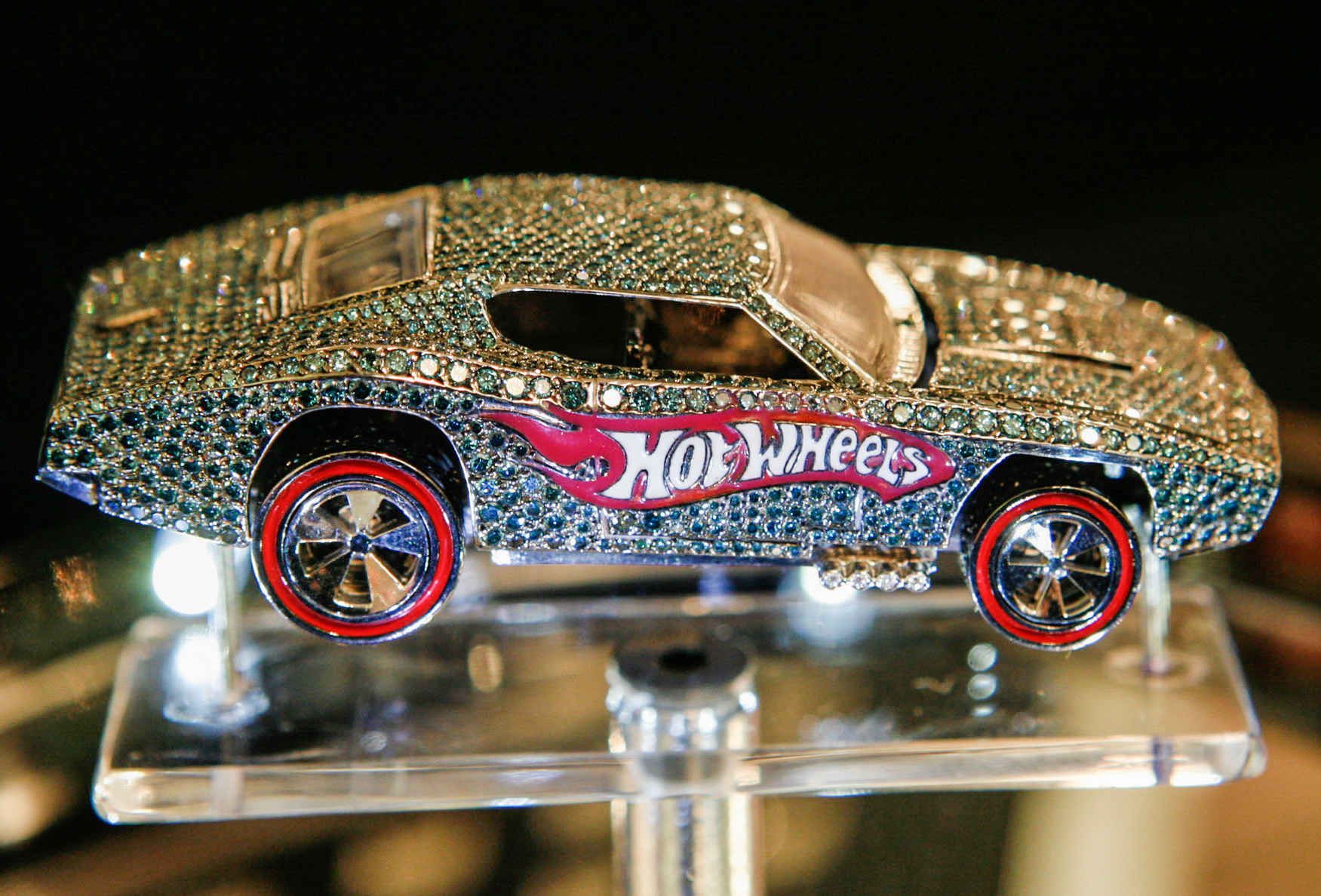 Created for the 2008 New York Toy Fair, this baby was worth $140,000 when it was made, and possibly more. To celebrate Mattel's 40th anniversary, Hot Wheels put together a gift from Jason of Beverly Hills. This recreation of a roadster is cast in 18k white gold and includes more than 2,700 diamonds and red rubies for taillights.
This may sound a bit ridiculous to make a toy car out of gold and precious gems, but it marked a milestone within the toy's life which created cause for celebration. Currently held by a private collector, its value is around the $60,000 mark — making it a Hot Wheels car that truly shines on its road.
Related: Here's What Makes These Hot Wheels Cars So Expensive
1
1969 Pink VW Beach Bomb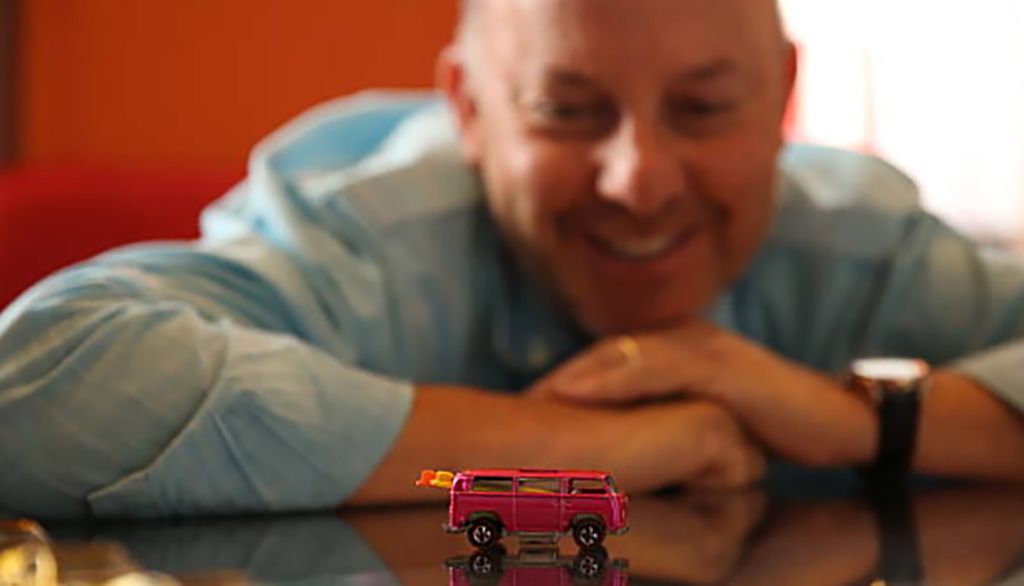 It may be a jaw-dropping idea, but yes, this little pink toy, the Holy Grail of Hot Wheels models car, is worth more than some actual Ferraris. The reason is that only two of these cars got produced back in 1969. They produced two models before realizing the surfboard sticking out of the back threw it off balance.
While other colors were also produced, the pink one was the rarest of the bunch. It's now owned by collector Bruce Pascal who boasts the most expensive Hot Wheels car in the world and its value keeps going up. Currently, you can expect to pay $175,000 for one of these toys. Not bad for a toy imitating a vehicle 64 times its size. Now just imagine if they made this one out of gold!