Driving remote control cars is a hobby enjoyed by many. Racing other cars, showing off stunts, and controlling vehicles in challenging terrain all contribute to the excitement of the RC car world.
There are many quality remote control cars for adults and even more for kids with various themes and features. These features become more complex as drivers level up. After a long RC career, you may have become a seasoned pro driving advanced vehicles and upgrading components.
Here are the best RC cars available today.
One of the toughest RC cars available today is the ARRMA Kraton 8S BLX 4WD Monster Truck. Not only is it tough, but it is one of the fastest on the market. It's a high-performing and robust radio-controlled car suitable for experienced drivers only.
It's a thrilling and challenging truck designed for extreme off-road driving. Thanks to its superior brushless motor, high-torque steering servo, and responsive throttle control, it's capable of extreme stunts. Meanwhile, the rugged chassis and premium suspension system ensures steady and composed landings. Its 4WD drivetrain and waterproofed electronics also mean it can handle just about any terrain and weather. It's quite simply one of the best off-road RC cars money can buy.
However, if you are looking for a toy for a child, you should look elsewhere. This beast features powerful components and can reach top speeds, meaning anyone under 14 shouldn't be using it. Even then, adult supervision is still advisable for younger teens with little RC car experience.
Key Features
4WD drivetrain
Spektrum DX3 3-channel 2.4GHz radio with SR6100AT AVC receiver
High-torque Spektrum Firma 1250Kv brushless motor
Spektrum Firma 160A smart ESC
Spektrum S905 metal-geared digital servo
1/5 scale
Specifications
Dimensions: 34.1 x 25.5 x 12.6 inches
Max. Speed: 55-60mph
Playing Time: 10-15 minutes
Brand: ARRMA
Pros
8S LiPo compatible
Waterproof electronics
Adjustable suspension
Fast
Cons
Battery life may be limited at high speeds
Not recommended for under 14s
Buy This Product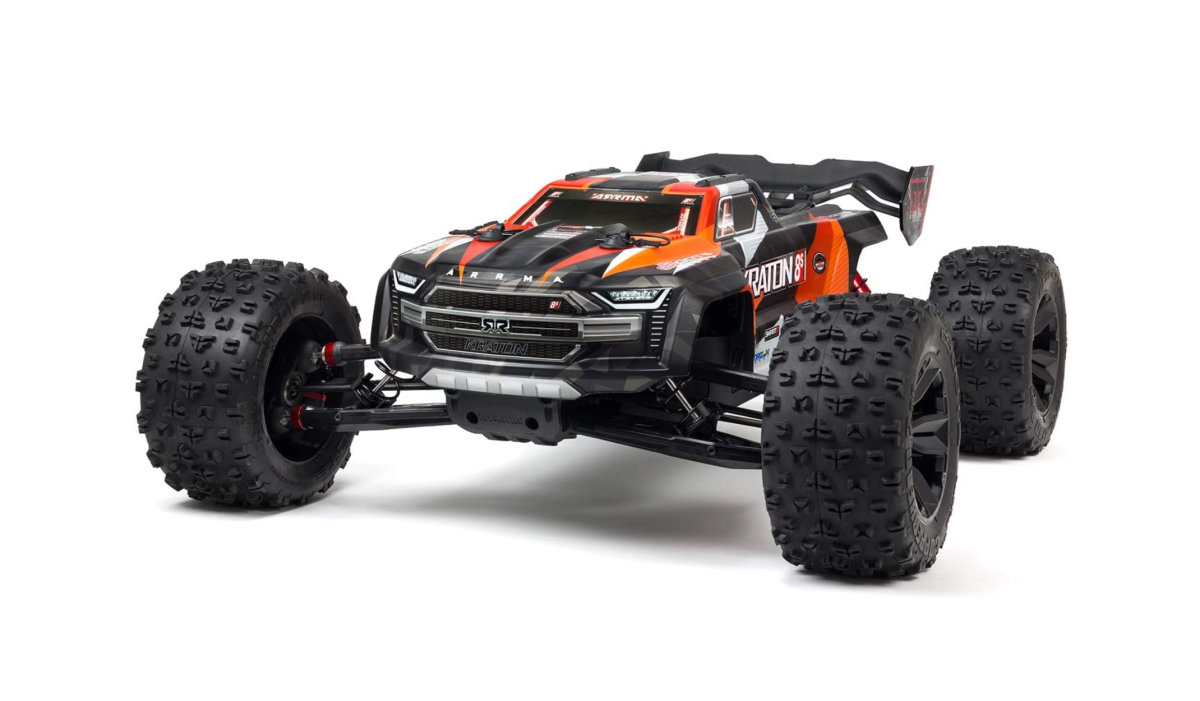 ARRMA KRATON 8S BLX 4WD Monster Truck
Despite the uninspiring name, the Traxxas 68086-4 Slash 4X4 is another off-road beast popular with RC car enthusiasts. It's one of the toughest and best off-road radio-controlled cars available, not to mention one of the coolest. It's user-friendly and easy to operate, making it an excellent option for intermediate to advanced drivers. However, beginners should probably look for something less challenging, and it also isn't suitable for children under 14.
If you love off-road racing and bashing, this is a great choice. The Velineon 3500 Brushless Motor delivers extreme horsepower and perfect balance. At the same time, the responsive and advanced suspension system ensures firmly grounded wheels. Additionally, the low-center-of-gravity design provides improved traction, increased stability, and excellent balance. You can also adjust the oil-filled GTR shocks to suit the terrain and your approach. High-speed racing, hard cornering, and freestyle bashing have never been so much fun.
Besides its high performance, the Traxxas 68086-4 Slash 4X4 RC car is also highly customizable. You can purchase various parts to upgrade its appearance or performance, making it an excellent choice for competitive racing.
Key Features
Traxxas Stability Management system
TQi 2.4GHz radio system
Digital high-torque waterproof steering servo
Velineon 3500 brushless motor
Torque-control slipper clutch
Velineon VXL-3s electronic speed control
1/10 scale
Specifications
Dimensions: 23.3 x 11.65 x 7.6 inches
Max. Speed: 60+ mph
Playing Time: 20-25 minutes
Brand: Traxxas
Pros
Sealed electronics
Shaft-driven 4WD
Handles a wide range of conditions
Robust, waterproof design
Cons
Battery and charger sold separately
Buy This Product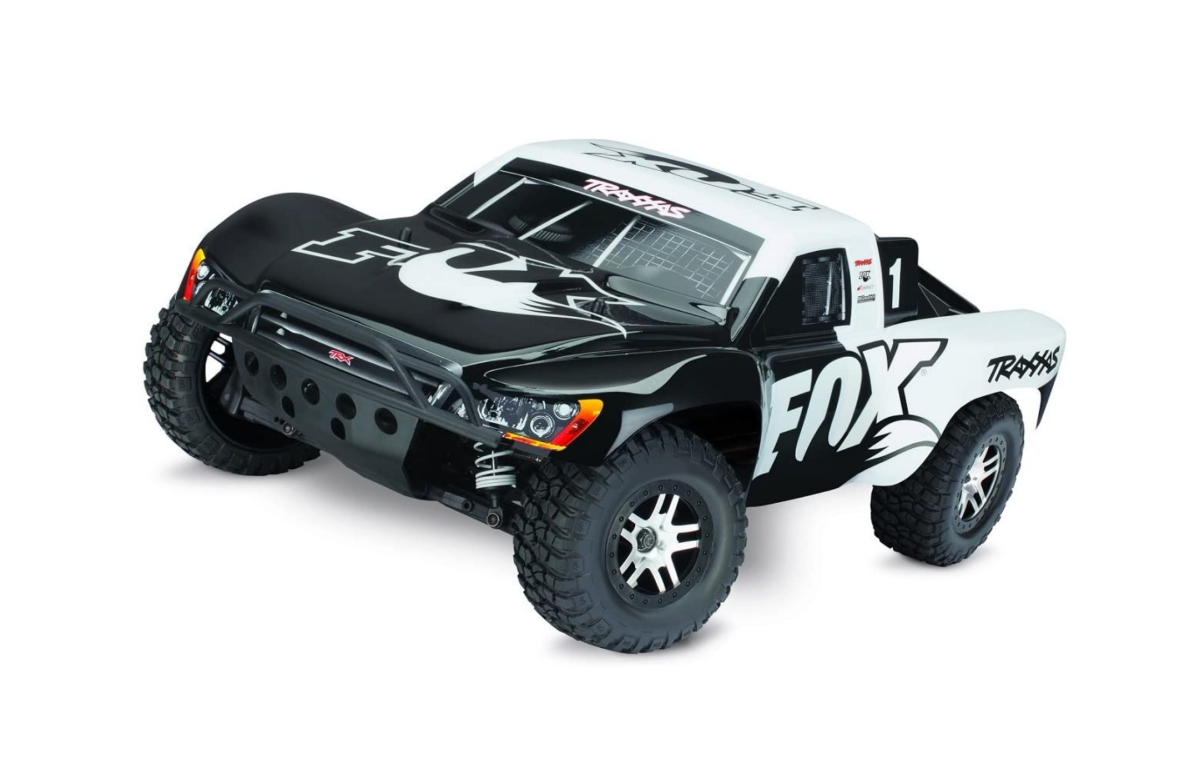 Traxxas 68086-4 Slash 4X4 RC Car
Advanced RC cars are usually too sophisticated for young children and have features that make them dangerous. Therefore, purchasing a specifically-designed remote-control vehicle for kids is the best option. One top choice is the Kidirace RC Police Car. It's one of the best remote-control cars for 5-year-olds and over and is a fun and exciting toy.
Besides plain old fun, there are numerous other advantages for a child to get an RC car. For one, they develop hand-eye coordination in younger kids. Although child-friendly, the Kidirace RC Police Car controller may still be difficult initially. But with guidance and continued practice, your child will develop the skills to drive the car and gain confidence in their ability along the way.
RC cars also promote social interaction and encourage children to play outside. With the 2.4GHz radio of the Kidirace RC Police Car, you can have up to six remote-control cars operating simultaneously. With each kid having a different car, they can race, play, and act out imaginative scenarios. This car's durable rubber tires allow for accurate tight turns, while the realistic lights and sounds spark creativity, bringing siblings and friends closer together.
Key Features
Realistic lights and sounds
Durable rubber tires
Charger, cable, and batteries included
1/24 scale
Specifications
Dimensions: 14.8 x 7.6 x 6.5 inches
Max. Speed: Up to 9.3mph
Playing Time: Up to 30 minutes
Brand: Kidirace
Pros
Child-friendly controls
Can race up to six cars together
Affordable
Encourages social interaction
Cons
Loud noises may get tiresome for parents
Buy This Product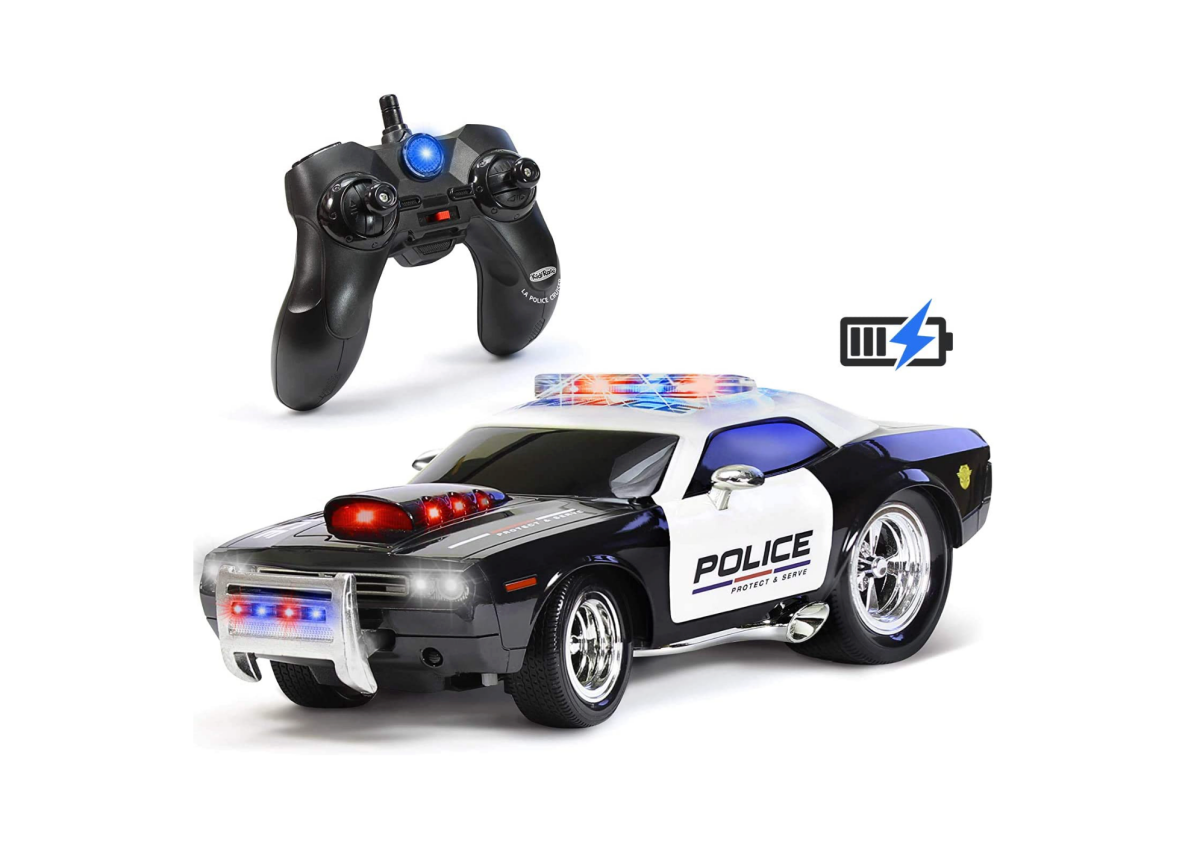 An excellent choice for beginners and advanced drivers alike is the Team Associated 1/10 SR10 2. It's another RC car designed for off-road racing, and it's pretty easy to use and offers a lot of fun and thrills. Older children and teenagers just getting into the RC car scene will love it. But as it's a high-performing remote-control car with advanced features, experienced drivers will enjoy it, too.
The 4WD drivetrain and adjustable suspension offer excellent traction and control. Additionally, the robust aluminum chassis enables easy handling of various terrains, including sand and dirt. However, as it's not fully waterproof and sealed, it is best to avoid wet conditions.
Furthermore, it has a maximum velocity of around 40mph. This speed may be too fast for some beginners, especially younger ones still developing good eye-hand coordination. However, once you have acquired the necessary skills, the 3300Kv brushless motor ensures you will have tons of fun racing at high speeds.
It's also customizable with a wide range of parts and other accessories to personalize your car or upgrade its performance.
Key Features
Powerful Reedy 3300Kv brushless motor
2.4GHz 2-CH radio
DVC receiver with adjustable gyroscope
4WD Drivetrain
Oil-filled shocks
1/10 scale
Specifications
Dimensions: 21.1 x 9.8 x 3.9 inches
Max. Speed: 40mph
Playing Time: N/A
Brand: Team Associated
Pros
Adjustable suspension
Durable build
Customizable
Easy to control
Cons
Might be too fast for some beginners
Not waterproof, only water-resistant
Buy This Product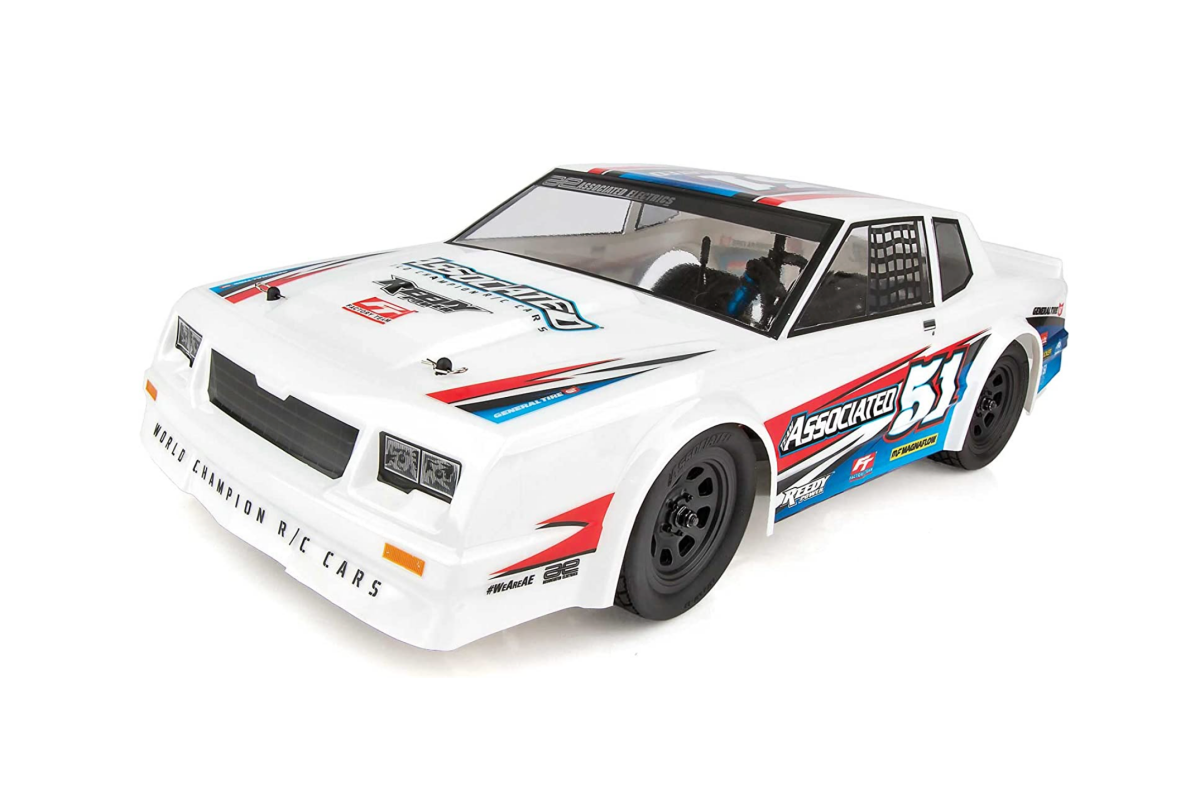 Team Associated 1/10 SR10 2
The Tamiya 58664 Ford Mustang GT4 Race Car Kit is an excellent option for advanced-level hobbyists who enjoy building and customizing RC cars. Intermediate enthusiasts will also enjoy learning the mechanics and leveling up their knowledge. However, although marketed as beginner-friendly, it's probably not an ideal buy for those starting out. The kit requires tools, parts, and assembly when you likely just want to start honing your driving skills.
It's based on the Ford Mustang GT4 race car, and the kit includes the chassis, suspension, and drivetrain components. The body shell, wheels, tires, and decals are also in the box, as are the motor and ESC. To complete the assembly, you will need to buy a 2-channel transmitter and receiver, a steering servo, and a battery pack and charger. You may also wish to apply polycarbonate paint to finish the look.
Once complete, the Tamiya 58664 Ford Mustang GT4 accurately represents the real-life race car. It offers high performance and speed that intermediate to advanced racers will love. You can personalize the car further with your own touches, such as upgrading the motor or ESC. The satisfaction you will get from building such a complicated kit will likely lead to purchasing more kits and further developing your RC car hobby.
Key Features
4WD
Oil-filled shocks
1/10 scale
Specifications
Dimensions: 19.1 x 9.1 x 6 inches
Max. Speed: N/A
Playing Time: N/A
Brand: Tamiya
Pros
Realistic design
Customizable
High-quality components
Cons
Lightweight polycarbonate material
Buy This Product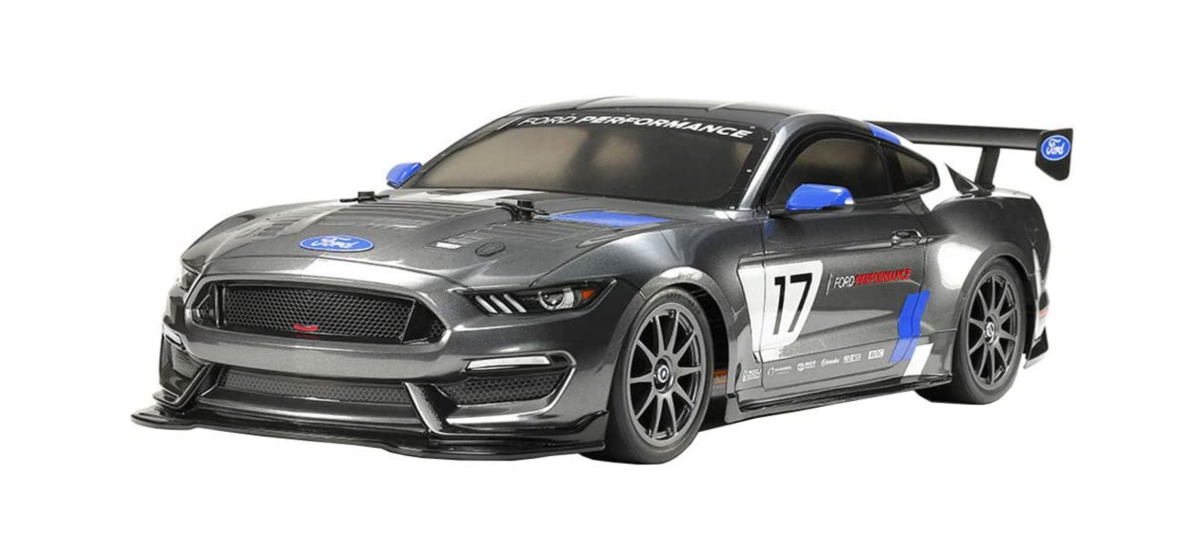 Tamiya 58664 Ford Mustang GT4 Race Car Kit
As it is primarily a toy, serious RC car enthusiasts will likely have no interest in the Carrera RC 200990 Mario Kart Circuit Special Racer. However, it is one of the best budget RC cars that many others can enjoy. Kids, toy collectors, and nostalgic adult Super Mario fans will all love this adorable remote-control car.
Officially licensed by Nintendo, it features an authentic design with detailed graphics. It's based on a special version of Mario Kart called the Circuit Special that appears in the video games. Thanks to the 2.4GHz radio, you can take the fun and nostalgia to another level by collecting other characters from the franchise and racing them together. Luigi, Yoshi, and Princess Peach can battle it out while riding various fun vehicles.
The controls are super easy, with just an on/off button and two responsive joysticks. The car can reach a top speed of around 6.2mph and has a durable construction allowing for bumps and scrapes. It works best on hard, smooth surfaces, while tricky terrain can pose problems.
Key Features
Long-life LiFePO4 battery
Automatic power off
1/18 scale
Nintendo license
Specifications
Dimensions: 12 x 5 x 5 inches
Max. Speed: 6.2mph
Playing Time: Up to 20 minutes
Brand: Carrera
Pros
50-minute charging time
Durable plastic and metal build
Easy to control
Authentic and licensed design
Charger, cable, and all batteries included
Cons
49-feet control range
Only works well on flat, smooth surfaces
Buy This Product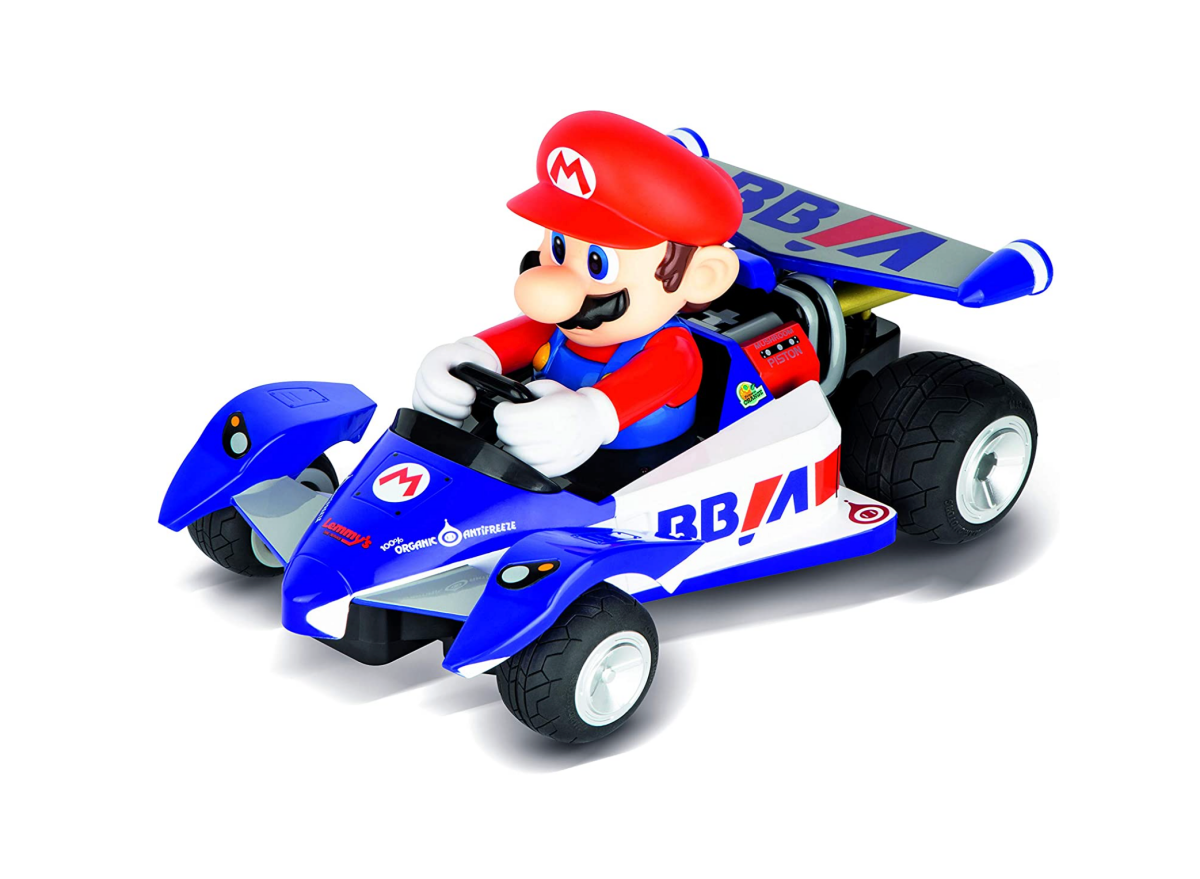 Carrera RC 200990 Mario Kart Circuit Special Racer
For a cheap, fast RC car with off-road capabilities, the Hosim S9135 Monster Truck is a very good option. This truck is affordable and provides speed and durability, making it suitable for intermediate racers. However, inexperienced users may struggle with controlling it at high speeds, while advanced drivers may not appreciate the brushed motor. But entry-level drivers looking to level up who are not ready to splash out on a brushless motor can do so with this RC truck.
It offers pretty good speed at around 22-25mph, and handling is easy. It's also an ideal choice to begin learning jumps and stunts, thanks to the motor and its responsive suspension system. It features four-wheel drive, a 390 brushed motor, and anti-skid rubber tires that can handle various terrain, from rock to sand. However, Its water resistance may not be as good as advertised, but it should survive occasional puddles.
It comes with two rechargeable batteries, each offering up to 20 minutes of playtime. So, with a quick replacement after the first one dies, you should get 30-40 minutes of racing.
Key Features
1/16 scale
4WD system
2x 7.4V 1500mAh rechargeable batteries included
Bright LED headlight
Specifications
Dimensions: 3.9 x 11 x 2.36 inches
Max. Speed: 25mph
Playing Time: 20 minutes per battery
Brand: Hosim
Pros
Affordable
Durable build
Good battery life
Cons
Unsuitable for young or inexperienced users
Brushed motor
Buy This Product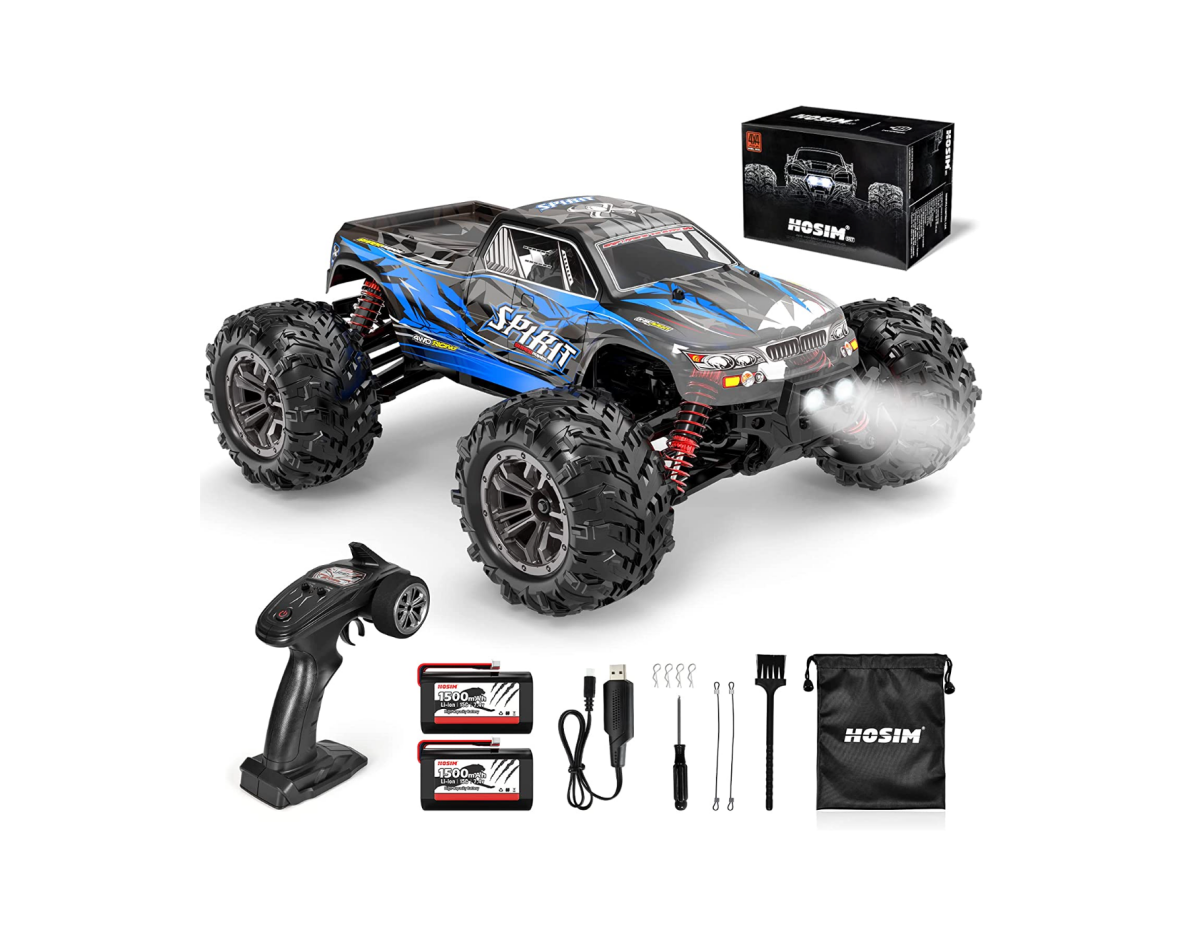 Hosim S9135 RC Monster Truck
FAQ
Q: What Are Some of the Best RC Toys?

Aside from cars and trucks, there are numerous other popular RC toys. Boats, helicopters, and tanks all come in RC form and are very popular. This category also includes drones, although it's important to remember that expensive camera drones are not toys.
Q: Who Are the Top RC Car Manufacturers?

Traxxas, Tamiya, ARRMA, and Team Associated are among the top manufacturers. Others include HPI Racing, Axial Racing, Redcat Racing, and Losi, to name but a few.
Q: How Can I Develop My RC Car Racing Skills?

The most important thing you can do is have fun. However, it's also essential to compete at your skill level. It would be best to upgrade your cars and equipment as you develop your skills, too. But those skills won't develop themselves; you need to practice as much as possible.
You can gain experience by attending races and joining RC car clubs. You can meet advanced drivers there, get tips, and learn from their experience.