Out of billions of mass-produced Hot Wheels vehicles, there are a select few which are worth more than imaginable. Some of these collectors' gold mines look amazing while others could be just another car in one's collection.
RELATED: The Best Racing Games For Beginners
Depending on the year, designer, prototypes that snuck out of the factory, or simply based on iconic cars — the most valuable Hot Wheels cars are not necessarily what you would expect. Some are based on movies, shows, or something in real life, while others were among the first ever created and sold. Here, you can check out some of the most expensive Hot Wheels on the market.
These entries are presented in no particular order.
Updated April 3, 2023 by Jacqueline Zalace: No matter how much time passes, Hot Wheels maintain its immense popularity. We've added even more valuable cars to our list to make your jaw drop. We would also like to remind you that these cars don't have set prices; many of these cars will fluctuate in price, which is natural for collector's items.
13
Hot Wheels 1995 Collector Number 271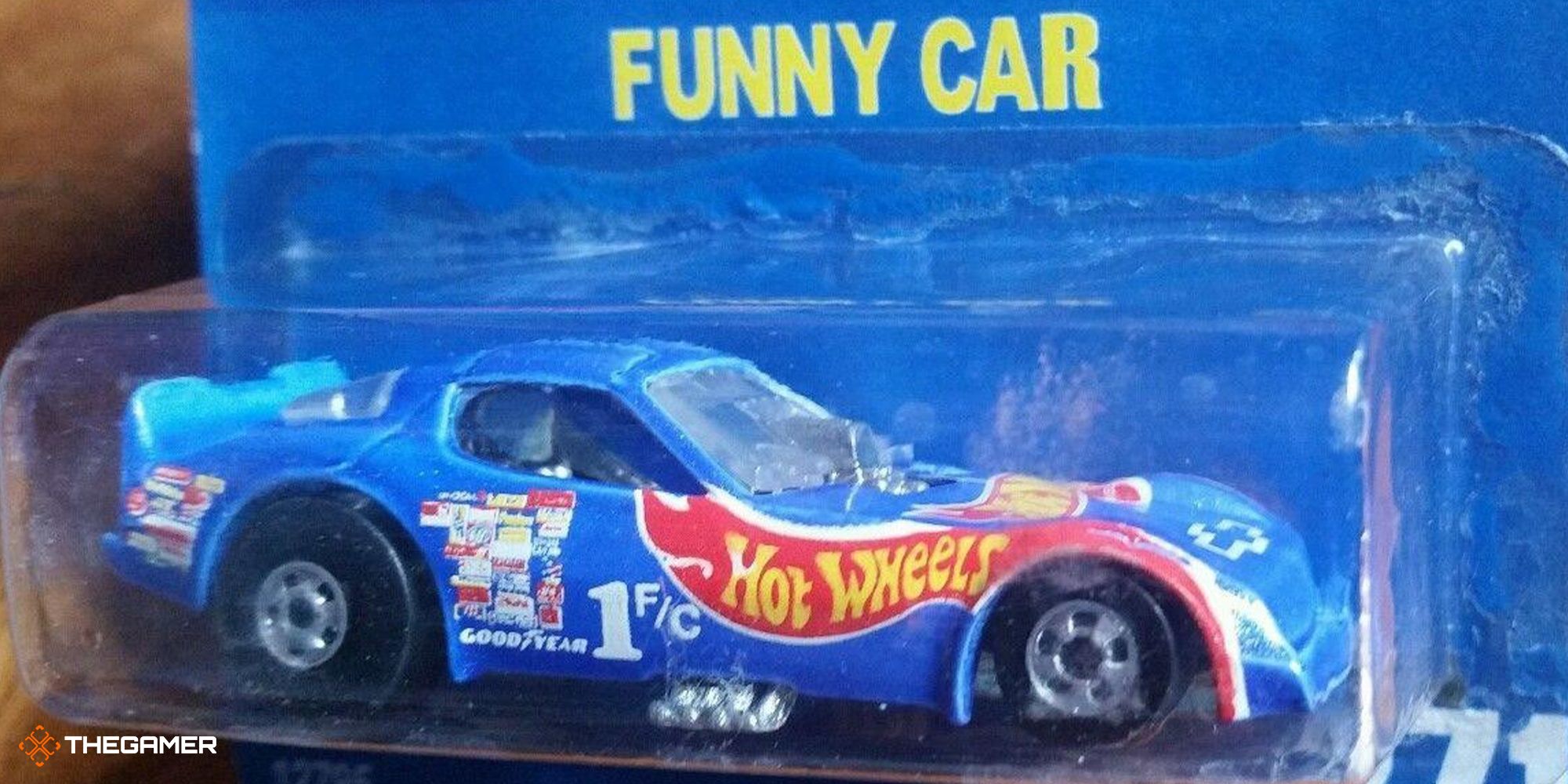 Officially known among Hot Wheels heads as the Hot Wheels Collector Number 271 with a blue card, there are only 12 of these in existence. Released in 1995, the Collector Number 271 is likely the rarest model Hot Wheels car from the 90s.
The Collector Number 271 is worth around $3,500. The only catch is that if you don't have the packaging, it can't be verified as authentic. There are also some fake packaging versions too, so don't get click-happy if you happen to see one on eBay. As of 2016, only around seven have been officially authenticated, leaving five Hot Wheels Collector Number 271 cars out there that might be collecting dust in your storage area. If you left it in the packaging.
12
1968 Brown Custom Camaro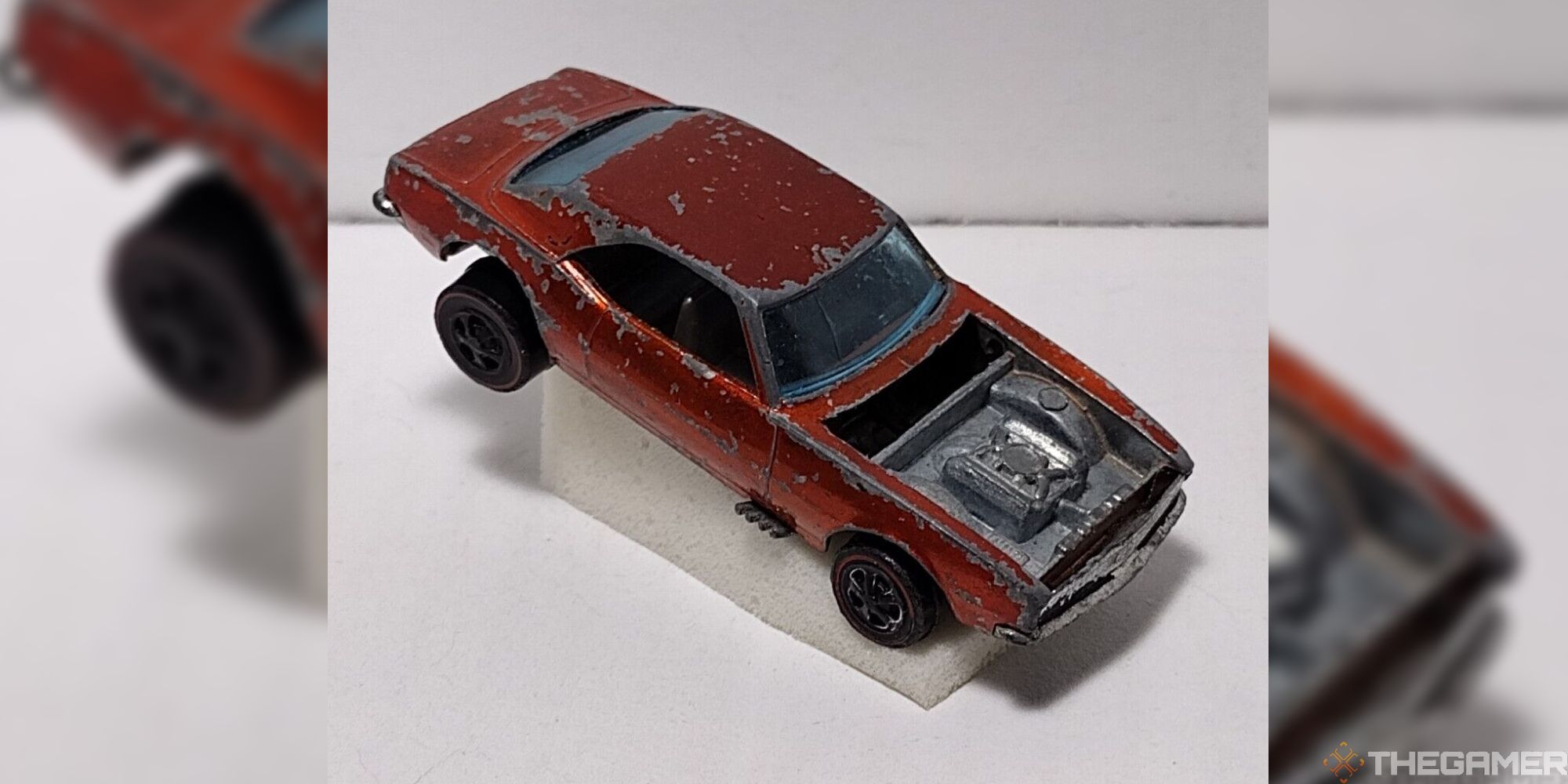 Like many other Hot Wheels on our list, the Brown Camaro was rumored to have never been sold. Instead, it was for store display only.
The 1968 Brown Custom Camaro is part of the Store Display Set from the same year, which consists of 16 different cars. If you are looking for the Brown Camaro, you can expect to find it going for around $3,000. If you want even more though, the Store Display set sells for an estimated $50,000.
11
1969 Pink Rear-Loading Beach Bomb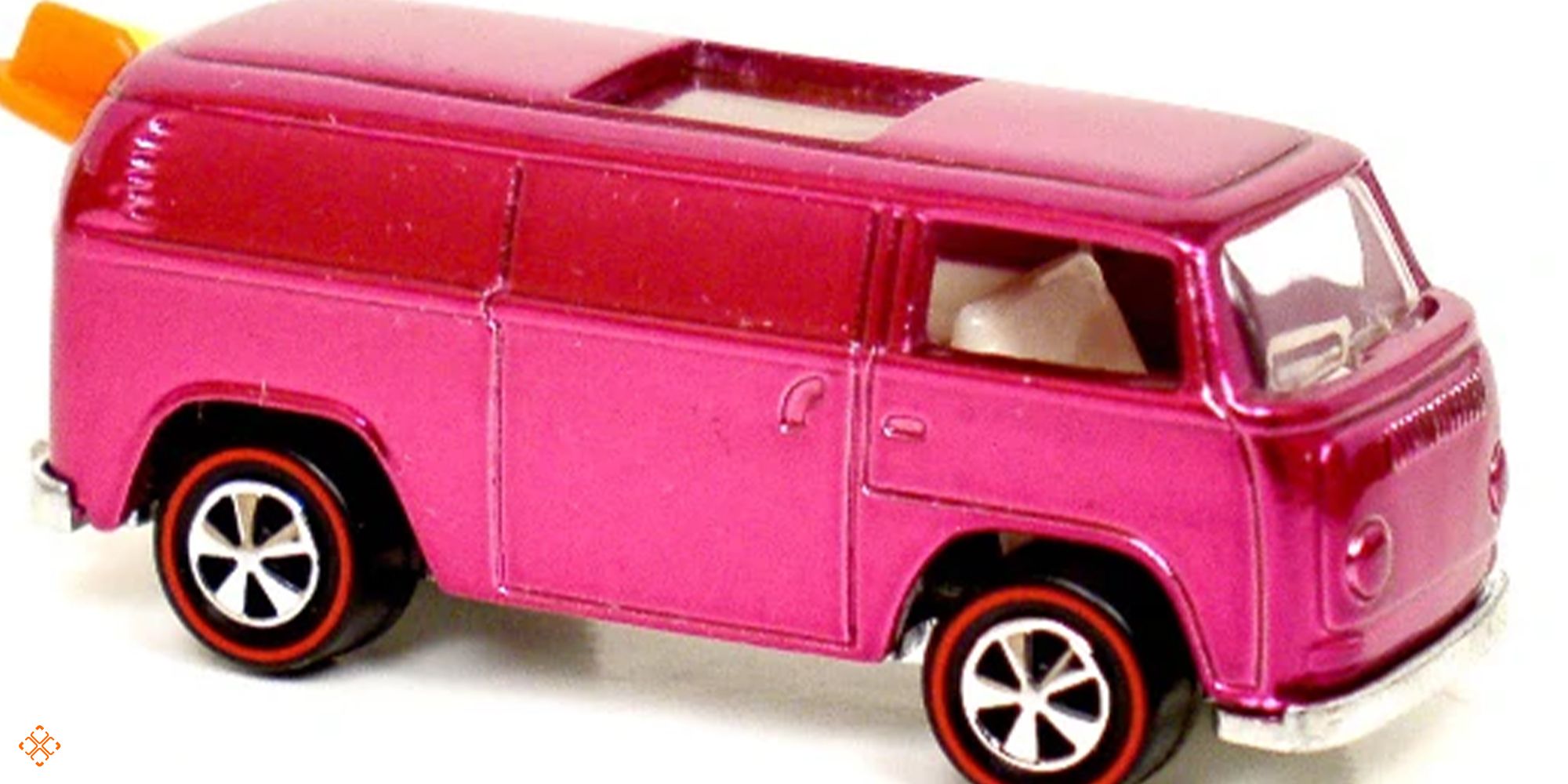 Known in the Hot Wheels community as the 1969 Pink Rear-Loading Volkswagen Beach Bomb, there are only two in existence. Owned by Bruce Pascal, the Pink Beach Bomb was scrapped and altered after just one casting. Hot Wheels then made around 200 Beach Bombs (designed by Ira Gilford) which featured the surfboards on the side instead. The vehicle was still deemed too top-heavy, as it couldn't make it through a Hot Wheels track.
Related: The Best Racing Games For Kids
All Beach Bombs are rare models, priced around $80,000 to $125,000. In the 70s, Hot Wheels track sets and superchargers were hot sellers. The Pink Beach Bomb failed to make it through the sets, which led to other models being created. The surfboards were moved to the side, and a large square chunk of solid metal was molded into the middle of the base — to keep the van weighed down.
10
2008 Diamond Encrusted Hot Wheels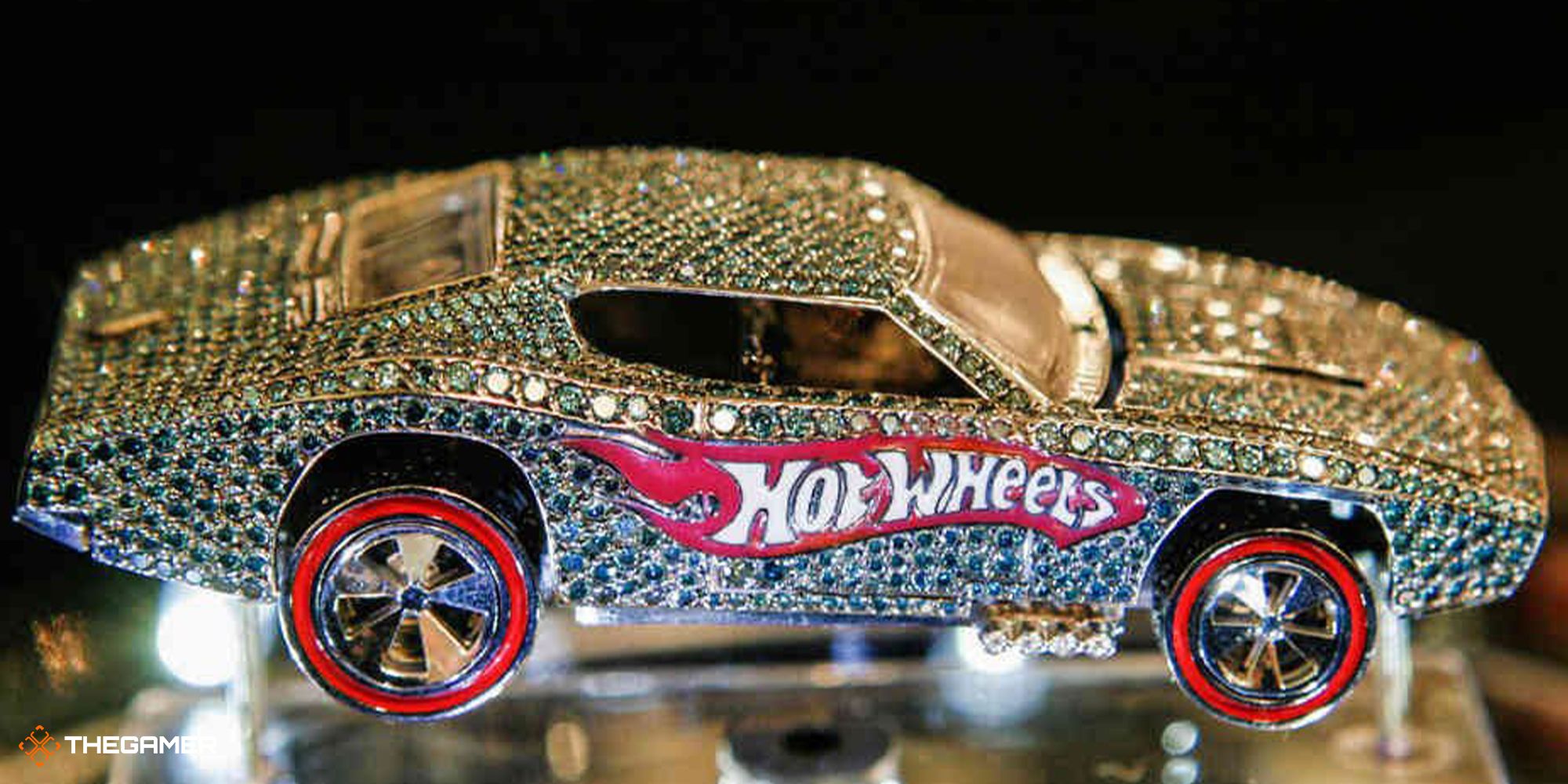 Hot Wheels cars rarely break the $100,000 mark, but the Diamond Encrusted Car is not an everyday toy vehicle. It is the most expensive toy car that has ever been made. Starting at a price tag of around $140,000, the Diamond Encrusted Car has an 18-karat white gold frame, along with 2,700 various blue, black, and white diamonds. The underside of the Hot Wheels car is painted with spectraflame blue paint and the brake lights are made from cut red rubies.
The diamonds on the car weigh in at a whopping 23 carats and are worth $140,000 by themselves. Of the 2,700 diamonds, there are 40 white ones. Each white diamond represents a year in the legacy of Hot Wheels. The car itself was made to commemorate the production of the 4 billionth Hot Wheels vehicle made, as well as the 40th anniversary of the company.
9
1973 Rodger Dodger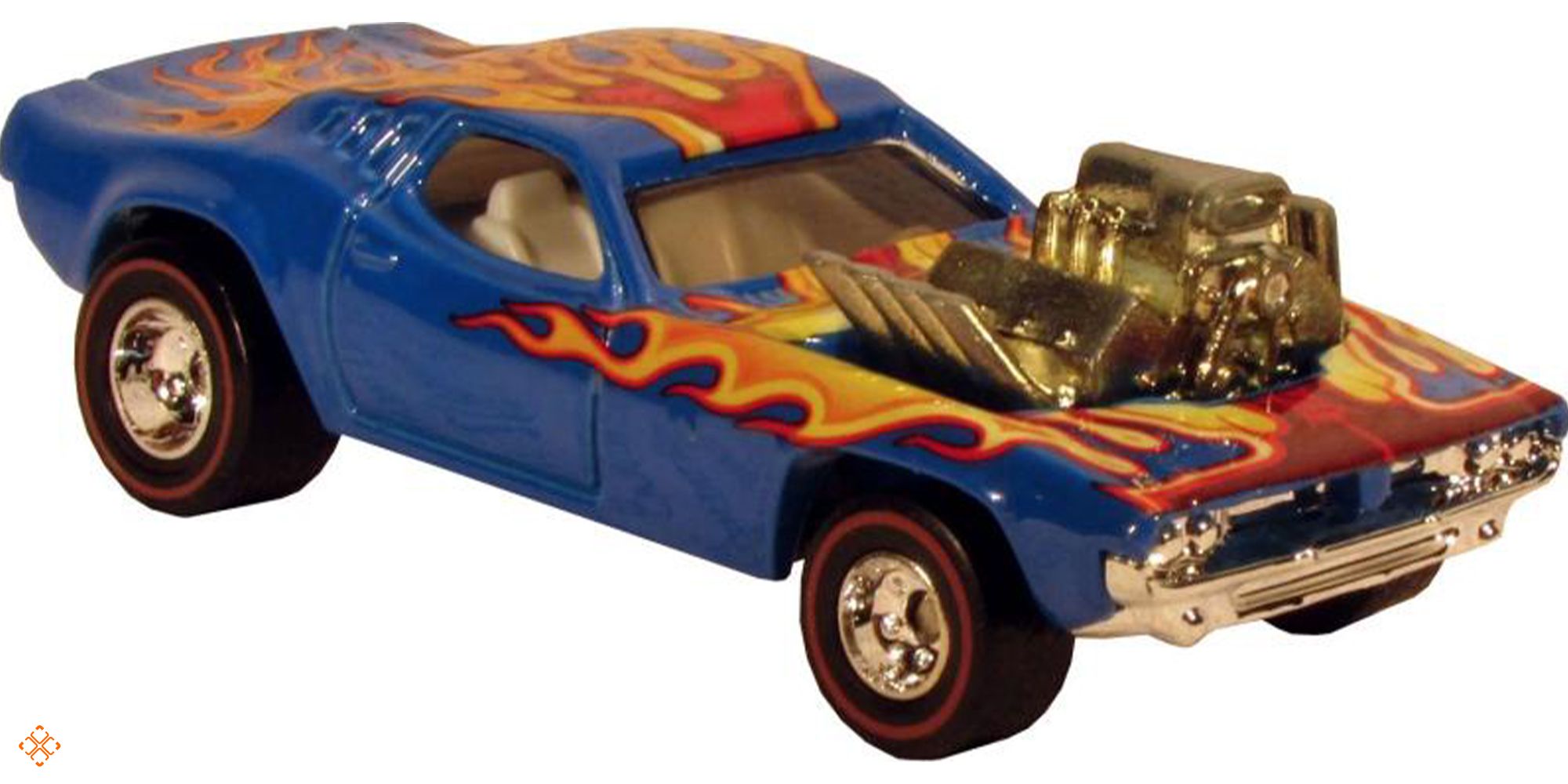 Based on the 1973 Dodge Charger SE with a triple opera window option, this Hot Wheels Rodger Dodger car was designed by Larry Wood. The earliest versions had a metal base and capped redlines on the rear only. The Rodger Dodger reused the same base from a previous version, named Show-Off. On rare models, you can find the Show-Off name partially bleeding through the deletion plate. There is another rare version from 1974 which has a white interior.
The rarest version of them all, however, would be the blue-painted Rodger Dodger. Produced sometime in the mid-70s, there are only seven blue Rodger Dodgers in existence. Rumored to have been a UK exclusive, these seven rare Hot Wheels will sell for around $8,000.
8
1969 Purple Redline Olds 442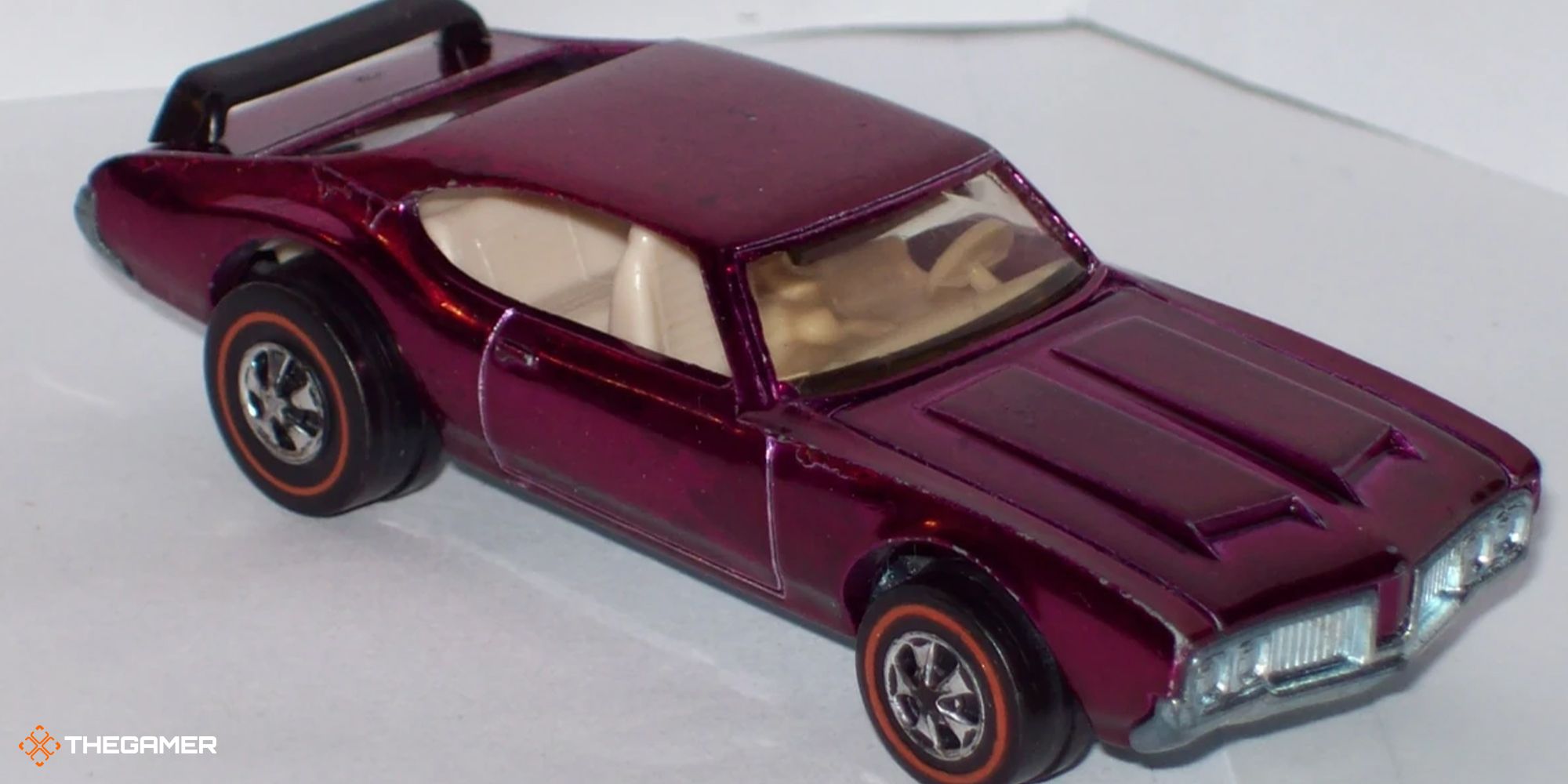 The Olds 442 is a Hot Wheels casting designed by none other than Larry Wood again, debuting in 1971. Based on the design of a 1970 Oldsmobile 442, this Hot Wheels car is the rarest casting from the Redline era (1968-1977). Even cars in poor condition are still sought after. The rarest of them all is the purple Olds 442. A Purple Olds 442 will sell from $1,500 to $7,000.
The Olds 442 features a hood that opens and includes a detailed motor underneath. Glass on the Olds 442 varies from clear, to having a slight light blue tint, and it was initially packaged with a decal sheet of white stripes with stars. The Olds 442 also came with either a metal or plastic Collectors Button.
7
1970 Mighty Maverick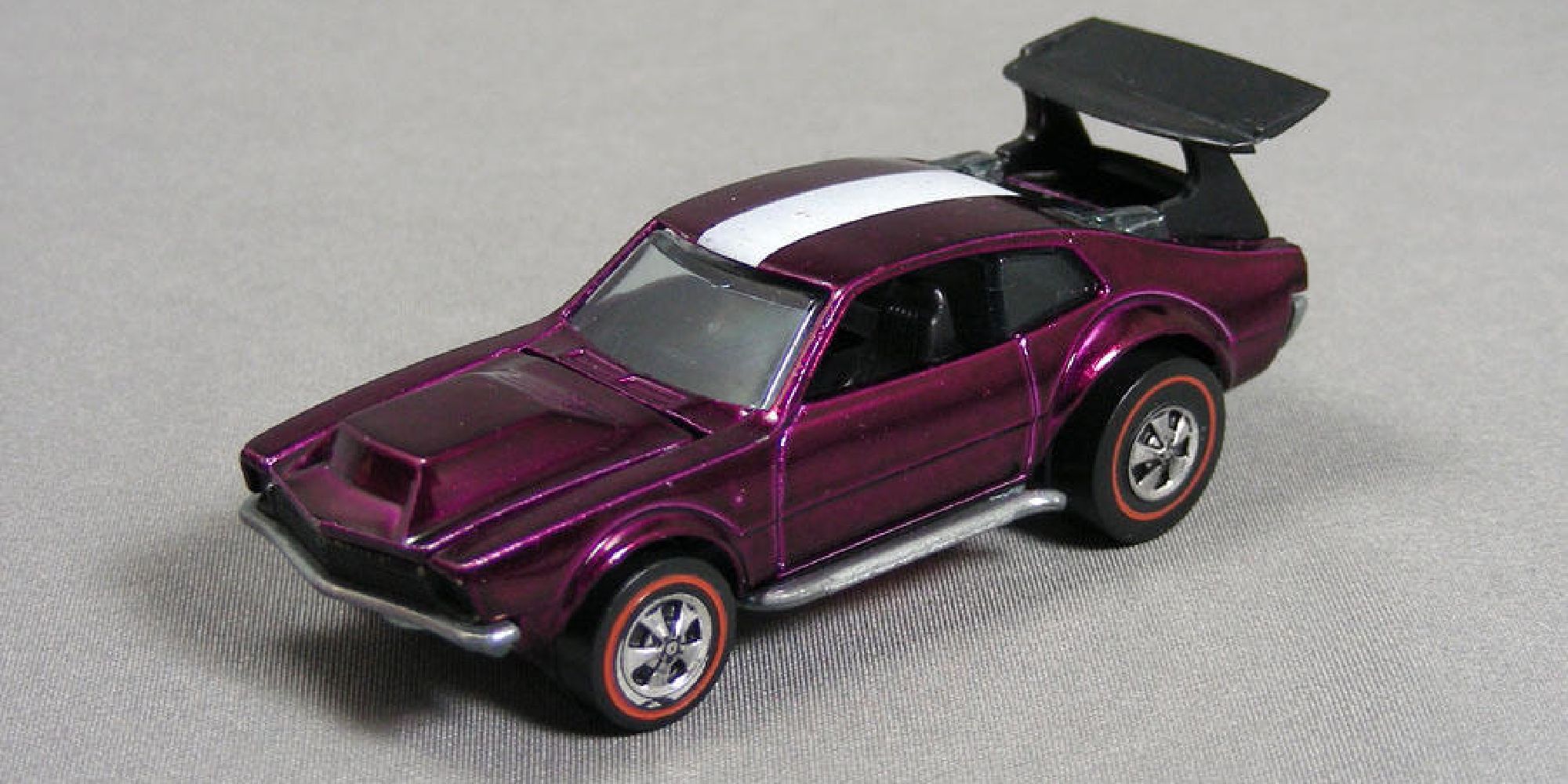 The 1970 Mighty Maverick is a little car based on the 1969 Ford Maverick. Rather than staying true to form, Hot Wheels added a bit more pizzazz to the car, complete with an oversized spoiler.
Interestingly, this car isn't valuable due to its look. The original prototype of the car was called Mad Maverick, but this was later changed due to copyright issues. You can still find this car with a base saying Mad Maverick, selling for an estimated $15,000.
6
1968 Red Baron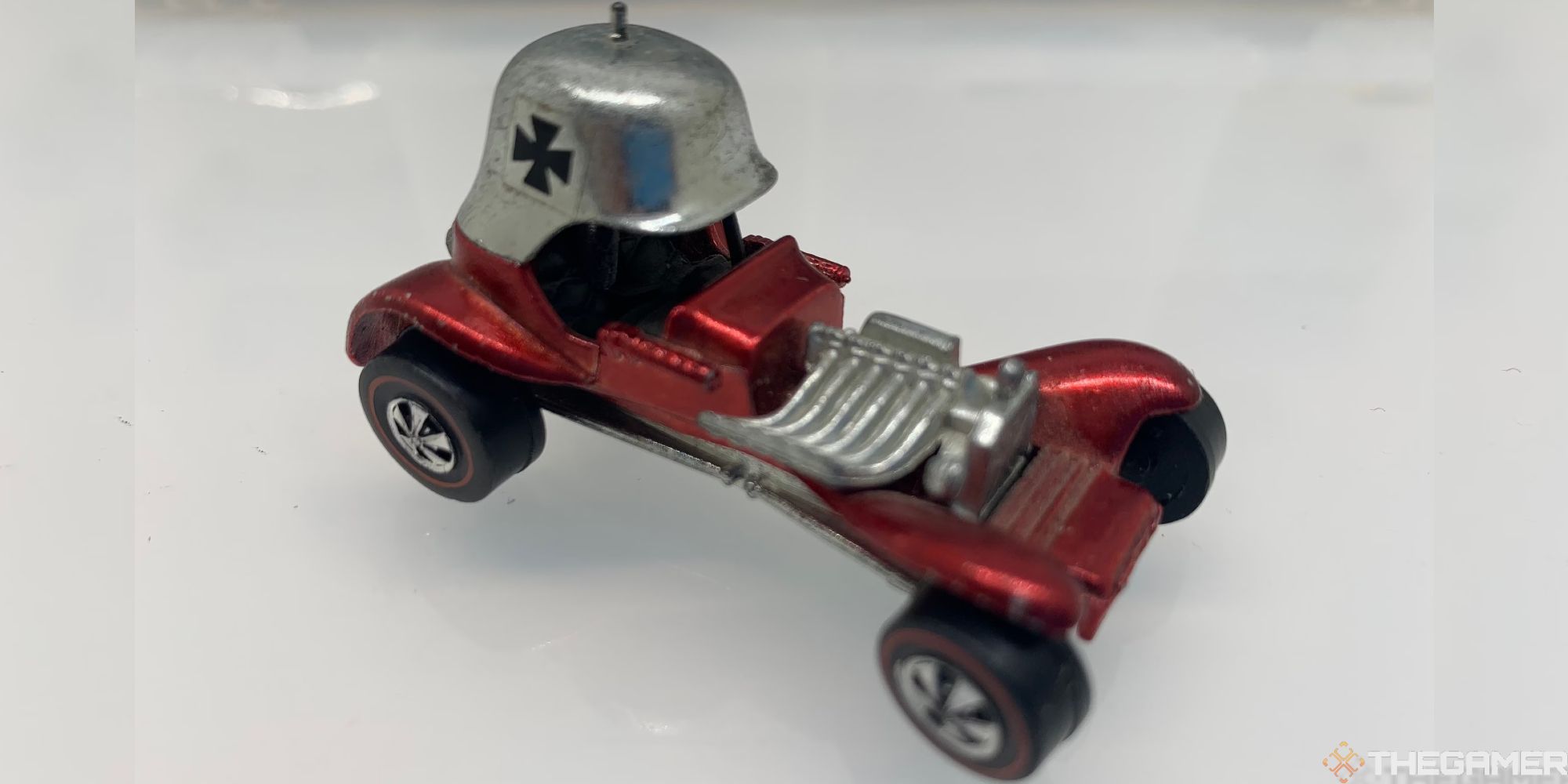 In 1968, Monogram (owned by Mattel at the time) released the Red Baron. Rumor has it that the car was inspired by the cartoon Peanuts; specifically, Snoopy's imaginary battles with the Red Baron. The original was a model kit of a stylized hot rod featuring a WWI German infantry helmet and an Iron Cross motif on the radiator. The version released in 1970 by Hot Wheels is one of the most popular and memorable cars ever.
Related: Games To Play If You Like Hot Wheels Unleashed
Its estimated worth is around $3,000 to $4,000. The original Red Baron featured capped redline wheels, spectraflame red paint, and a pointed spike on the helmet. It was packaged with either a metal or plastic Collectors Button. Certain versions of the 1970 Red Baron have been found with a white interior instead of black, and there is only a handful of these known to exist.
5
1969 Custom AMX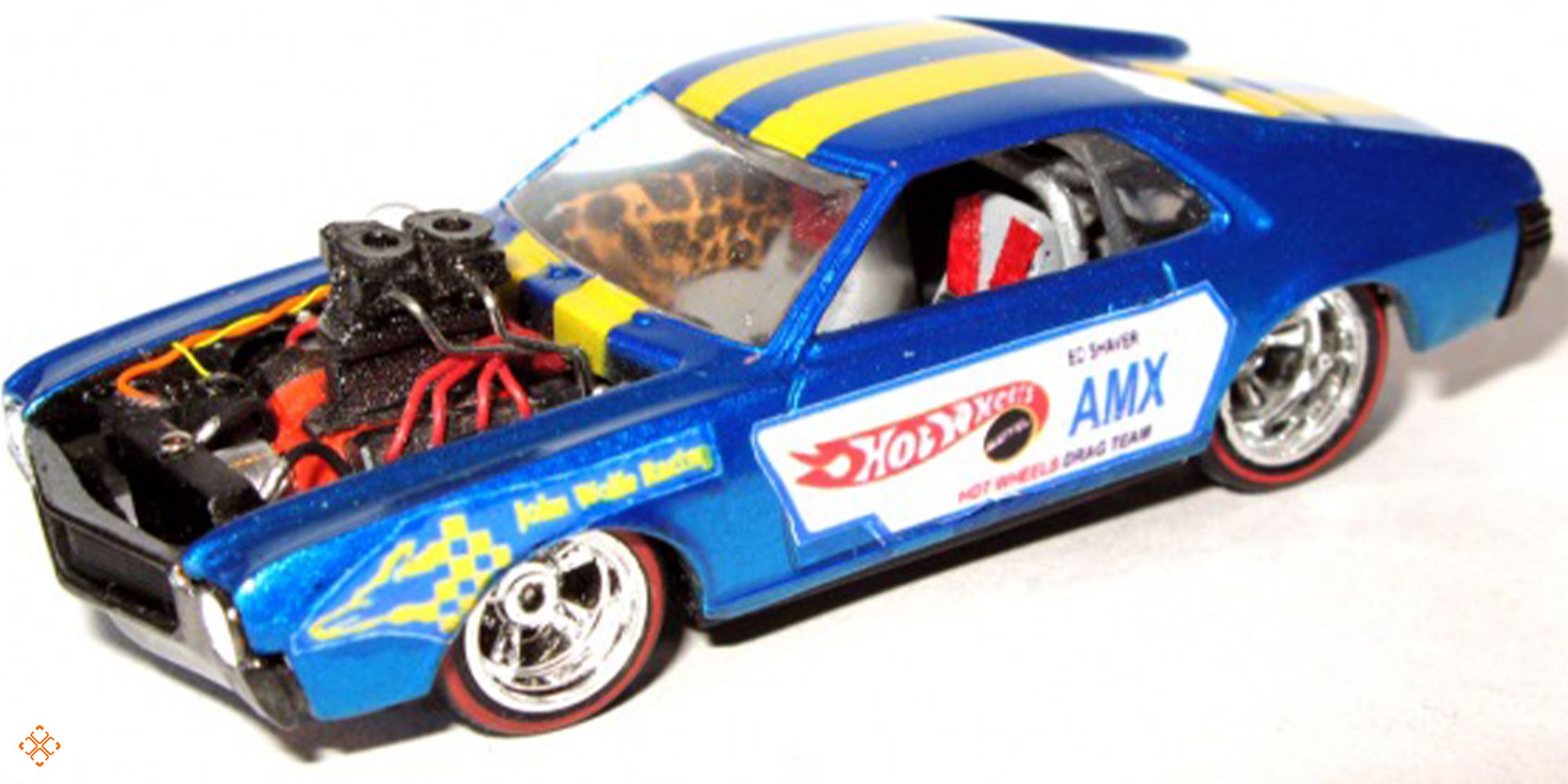 Generally known as the Custom AMX, this Hot Wheels car was initially released in 1969. The Custom AMX was made only in the United States, featuring a white interior. Most cars came with silver-bearing redline wheels while later versions featured Chrome-capped redline wheels. Various productions even produced a mashup of both. It also came packaged with a metal collectors button. But the normal Custom AMX isn't where the money's at.
The 1970 Ed Shaver Custom AMX goes for around $4,000. Sold only in the UK, the Ed Shaver Custom AMX was a sponsored version of the real deal. The only difference is in the stickers; authenticity requires proof that the stickers were purchased with the Hot Wheels car. After 41 years, the Custom AMC AMX was retooled in 2010 as part of the Red Line Club Membership.
4
1968 Python With Cheetah Base
The Hot Wheels Python is one of the original 16 Hot Wheels die-cast models Mattel released in the spring of 1968. The very first ones produced were done in Hong Kong. They were given the name Cheetah Python, but GM Executive Bill Thomas already had a Cheetah name attached to his Cobra Killer model.
The Cheetah Python is worth a minimum of $10,000. Only a few were made before the name was changed. These Hot Wheels Cheetahs were all in the color red. The public was never supposed to know about the Cheetah, but a few escaped the production facility, becoming a legend. The Python is based on a dream car designed by Bill Cushenberry. Dean Jeffries was the designer for Hot Wheels.
3
1968 Enamel White Custom Camaro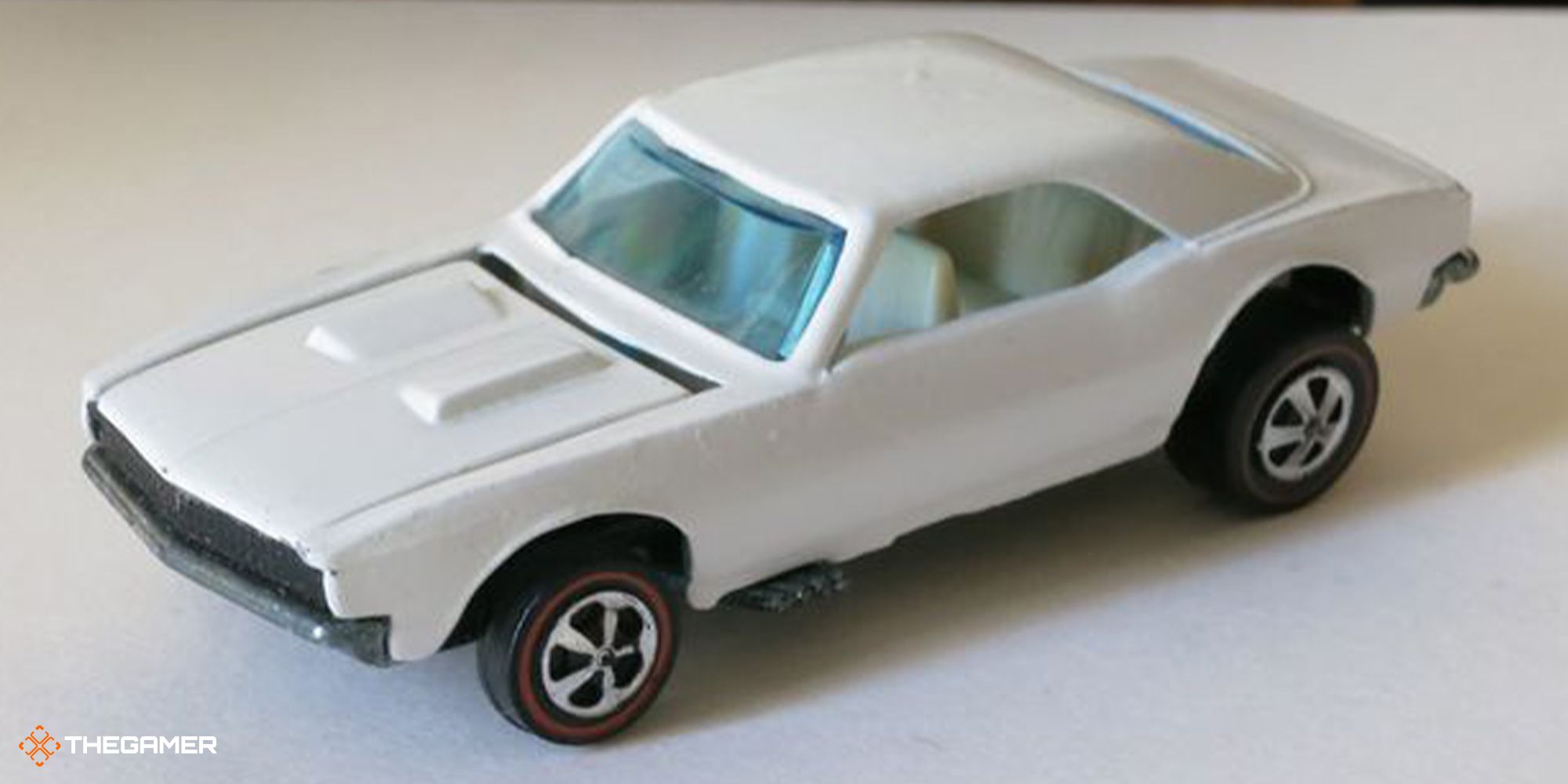 The Custom Camaro was the first Hot Wheels car to be released to the public. The white enamel is a prototype and is extremely rare; the reason for the color is due to the manufacturer checking for imperfections. Typically, a factory would paint the prototype white or black to check for problems, as it's hard to see what's going on when multiple colors are used.
Only a few White Enamel Custom Camaros were released. If you happen to come across one, it will likely be in poor condition, but will still be worth a minimum of $2,500. As of yet, no black versions have ever been discovered. If someone was able to get their hands on the actual blister pack, well — let's just say it is so rare it doesn't even have a value attached to it.
2
1968 Over Chrome Camaro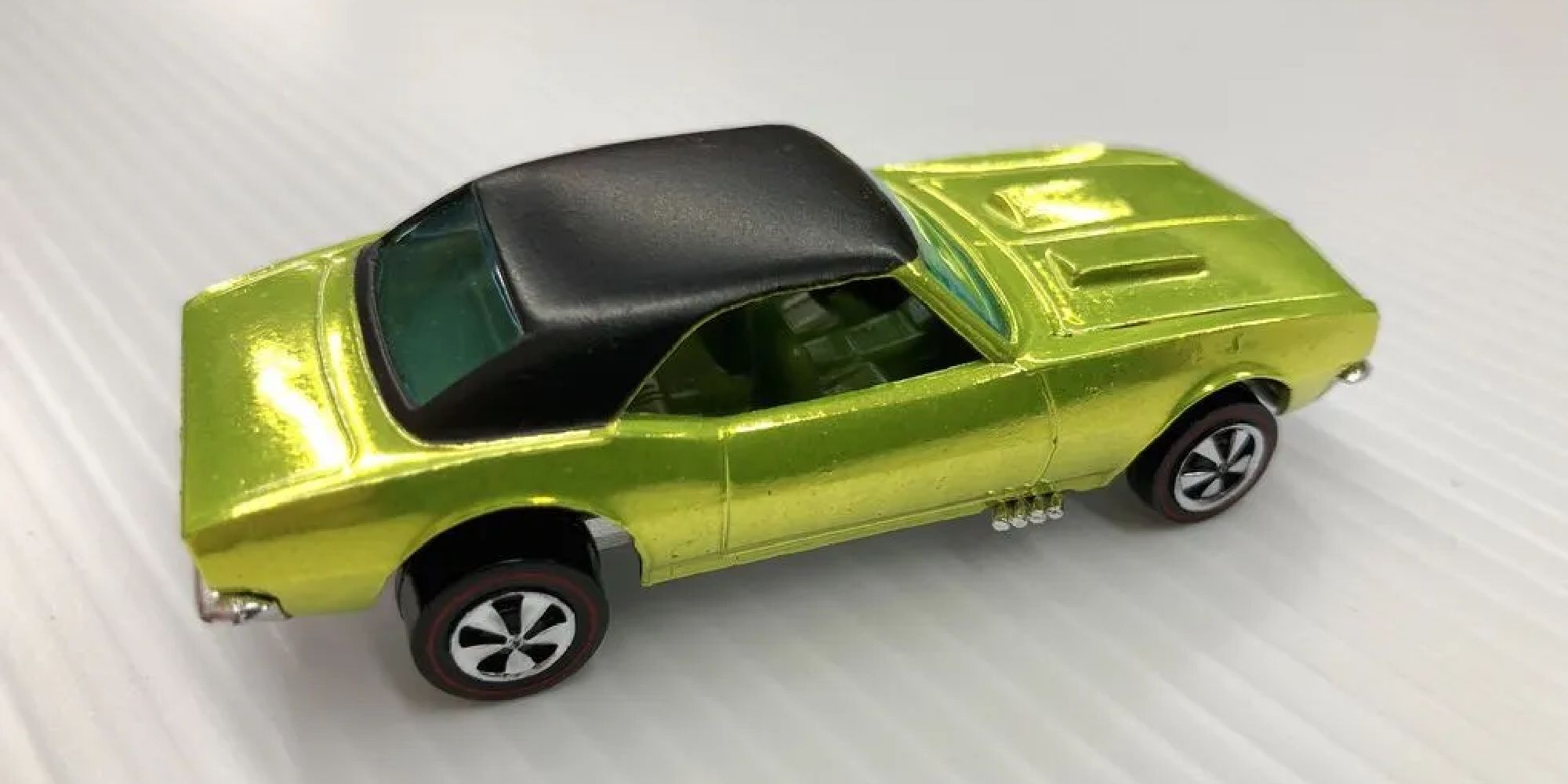 Next up, we have another Camaro. This time, it's chrome, specifically in the 'Antifreeze' color, which is similar to lime green. This is not to be confused with the other spectraflame color that is actually called 'lime'.
Looking at the car, you wouldn't expect it to be one of the rarest cars ever, but it is. Due to the limited quantity produced back in 1968, this little green car can go upwards of $25,000. By limited quantity, we mean that there are supposedly only 20 cars with this finish, and it was only created for advertising purposes.
1
1968 Over Chrome Mustang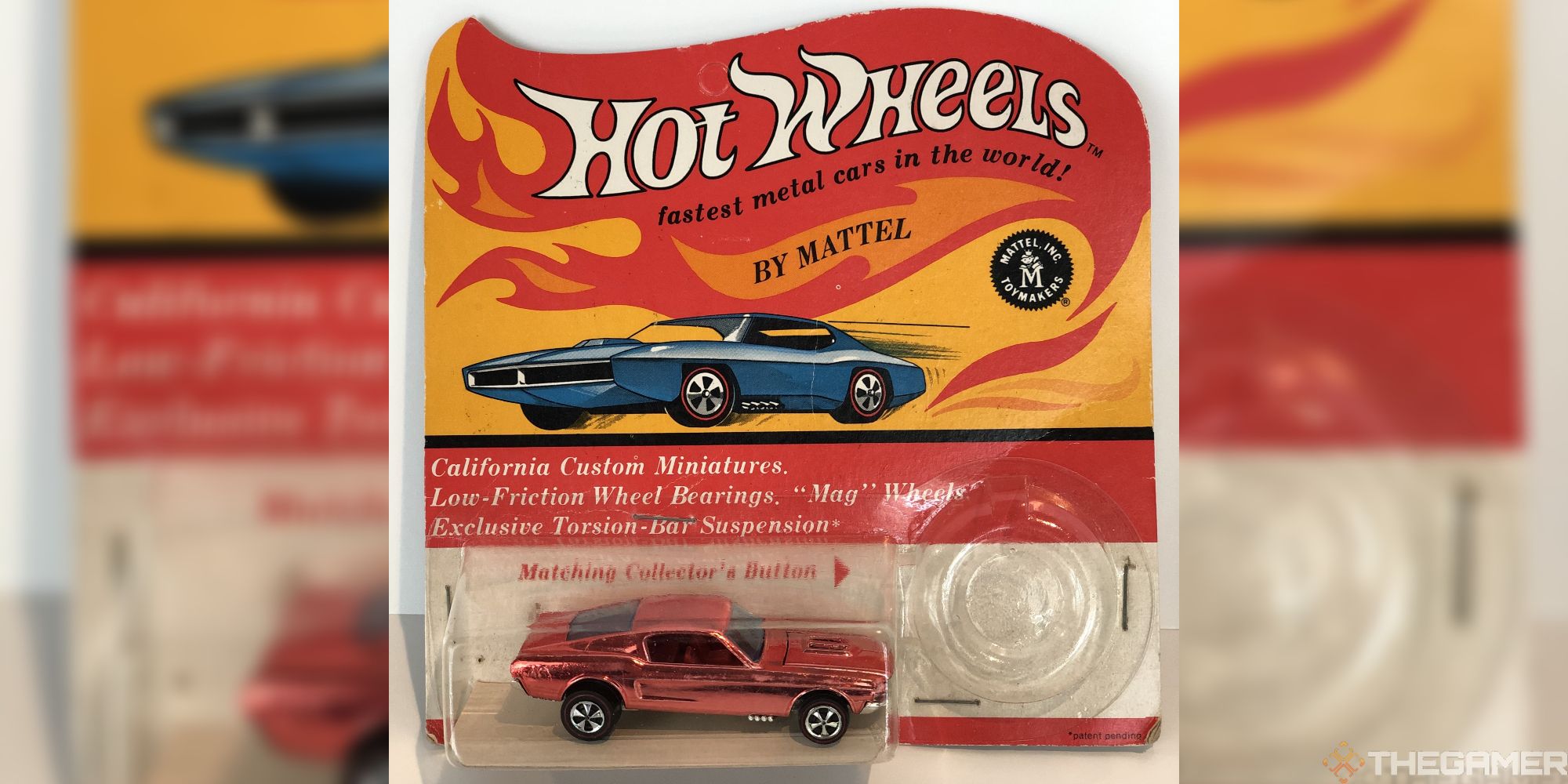 Lastly, we have another Over Chrome car. This time, it's a shiny red Mustang. There are only two versions of this car, and it was created just for advertising. This means that the car was never actually sold, like the Camaro above.
The story of 1968 Over Chrome Mustang is quite unique though. With only two versions, one was found at a trailer park estate sale. Nobody knows how it got there, but it's estimated to be around $40,000.
Next: The Most Realistic Driving Games